School of Medicine
Equipping students with the latest theory and practical skills in the medical field
The School of Medicine is committed to inculcating a strong ethical outlook on medical issues along with excellent communication skills as the basis for good interpersonal relationships and English language skills to engage at the global level. The course covers the fundamentals of medicine in years two and three followed by social and clinical medicine in years three and four. In year five, students move into clinical training and apply their skills and knowledge in practical settings. The clerkship program in the final year offers a choice of clinical training programs with extensive hands-on experience in diagnosis and treatment. Students can also apply to complete their final year of study at an affiliated overseas university.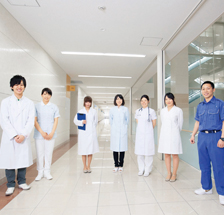 Key facts
| | |
| --- | --- |
| Educational principles | |
| Campus | |
| Teaching staff * | 353 |
| Students * | 782 |
Curriculum
Cultivating empathy and compassion
The School of Medicine believes that to be a good doctor, you need to be a good person. The cumulative curriculum structure provides the ideal learning environment for measured growth, based around intensive study of a limited range of subjects at any one time, with each year building on previous years.
| | |
| --- | --- |
| Year 1 | Students explore ethical principles and humanism and develop communication skills required of modern physicians, with a particular focus on English language skills for global engagement. |
| | |
| --- | --- |
| Year 2 | Students study the fundamentals of medicine, including basic concepts around the structure and functions of the human body. The second half of the year includes a four-month anatomy module focusing on the complex and fascinating structure of the human body. |
| | |
| --- | --- |
| Year 3 | Students are introduced to pathology (the causes and impacts of illness), pharmacology (the effects of drugs and medicines) and immunology through basic clinical studies, and acquire a thorough grounding in the workings of each of the bodily organs. |
| | |
| --- | --- |
| Year 4 | Through clinical training, students study observation, examination and diagnostic procedures and use the principles of clinical reasoning to distinguish between different illnesses. Students also become familiar with examination techniques involving advanced medical equipment and technology. |
| | |
| --- | --- |
| Year 5 | Students begin to apply their skills and knowledge in key clinical settings including doctor-patient meetings, medical history, physical examination techniques, diagnostic processes and basic medical treatment. |
| | |
| --- | --- |
| Year 6 | Students acquire practical diagnostic and treatment skills in their chosen clinical setting, working alongside a dedicated instructing physician as part of the medical team, while also developing a suitable professional ethos. |
Teaching staff
In the Teikyo University Teaching Staff Database, information about the staff can be searched and viewed. (Japanese information only, may not cover all staff)
Digital brochure
The digital brochure of each undergraduate school and graduate school is available on our site. You can also access to English, Chinese, Korean and other languages by the automatic translation function.