Department of Psychology
From pure to clinical psychology
Psychology is the study of the mind, in particular, how we interpret our external environment and our behavioral patterns and our sense of sociability. The Department of Psychology offers a wide range of elective subjects in psychology and related domains, as well as a choice of three specializations in Year 3 and beyond: pure psychology, developmental psychology and social psychology. Facilities include a monitoring room for observing behavioral development and laboratories for experimentation.
Courses
Choice of courses in three areas of specialization
Students select one of the following courses to be undertaken from Year 3 onwards.
Basic Course
The Basic Course looks at how we obtain information about the external environment that informs our behavior (i.e., sensory perception and cognition functions) and how we modify our behavior through experience (memory and learning functions).
Developmental Course
The Developmental Course considers various life phases, looking in particular at developmental phases in behavior and cognition and socialization processes, and considering the potential benefits of educational and other forms of intervention.
Social Psychology Course
The Social Psychology Course offers a comprehensive overview of social behavior from micro-level social behaviors such as interpersonal attraction and attitude to macro-level social behaviors such as public action and consumption patterns.
Curriculum
From pure to clinical psychology
The curriculum encompasses a variety of elective subjects in psychology and related domains, exposing students to a wide range of topics. In Year 3, students begin to specialize by choosing the Basic, Developmental or Social Psychology course. Facilities include a monitoring room for observing behavioral development and extensive laboratories.
| | |
| --- | --- |
| Year 1 | The curriculum covers a range of psychology subjects including perception, learning, cognition, development, socialization, personality and clinical studies, as well as classes in English language and computer skills. Students learn the basic principles and terminology of psychology and lay the foundations for further study in subsequent years. |
| | |
| --- | --- |
| Year 2 | Students explore various aspects of psychology through experimentation and report writing, and study the basic research techniques of experimentation, observation, investigation and testing. |
| | |
| --- | --- |
| Year 3 | Students nominate a course (Basic Course, Developmental Course or Social Psychology Course) in which to pursue advanced theoretical studies and research and gain practical experience. Year 3 also sees preparations get underway for the graduation thesis to be completed in Year 4. |
| | |
| --- | --- |
| Year 4 | Students develop solutions in their chosen research area through experimentation, observation and analysis, then either produce a graduation thesis setting out the research findings or completing an alternative subject. |
Featured class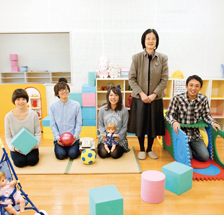 Observing infants at play through interaction
The Department of Psychology offers a choice of three courses in Year 3: Basic Course, Developmental Course and Social Psychology Course. This allows students to specialize in their area of interest. For students who choose the Developmental Course, in the Psychology Experiments I and II students nominate a research topic, gather the necessary data via psychology methods, and conduct training exercises to feature in the graduation thesis.
"We invite young children from the Teikyo University Kindergarten to our play room where we can observe them at play," says Kihara. "One group of students plays with the children while the other group observes them from the monitoring room. The session is recorded as well for later viewing where we identify meaningful or significant behaviors, using the psychology technique known as behavior observation." In this way, observation of children at play provides valuable insights into human development.
Teaching staff
In the Teikyo University Teaching Staff Database, information about the staff can be searched and viewed. (Japanese information only, may not cover all staff)
Student Message