Libraries
Providing facilities and services as well as books and publications
Teikyo University libraries house an extensive range of physical publications while providing a range of facilities and services such as booths for browsing e-journals and e-books and dedicated study and research rooms.
Itabashi Campus library
Featuring an extensive array of specialized medical texts
The Itabashi Campus library, also known as the Teikyo University Medical Library, was formed in April 2012 through the merger of the former medicine and pharmacology libraries. The new library, consisting primarily of medical texts as well as e-books and e-journals, services the three faculties on campus (Medicine, Pharma-Science and Medical Technology) as well as the Teikyo group in general. The library is located in the basement of the main university building, and can be accessed until midnight every day except Sunday via the automated visitor entry system. The fully automated lending system can be used after hours when library staff are not present.
| | |
| --- | --- |
| Titles | 235,787 |
| Floor area | 3,000.5m2 |
| Seats | 491 |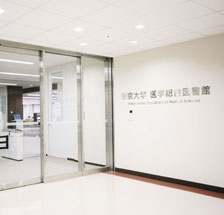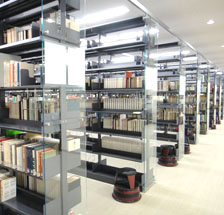 Hachioji Campus library
Extensive range of electronic publications geared towards media literacy
The Hachioji Campus library, also known as the Teikyo University Media Library Center, has a strong focus on media literacy as evidenced in the increasing use of electronic texts throughout the university and starting a project of joint reading library in 2012 to support self-directed study.
The library has five levels: the basement houses the media lounge and archives; the ground floor houses the browsing area, admin offices and the main counter; the second floor has a multimedia center with computer workstations and audio/video booths; and the third and fourth floors hold the remainder of the physical collection along with seats and study spaces. The building is designed to earthquake-proof standards.
| | |
| --- | --- |
| Titles | 781,250 |
| Floor area | 8,231m2 |
| Seats | 1,805 |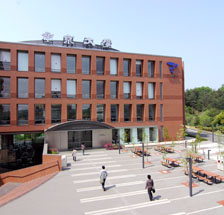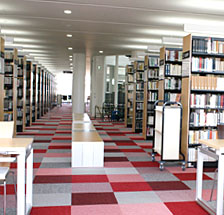 Utsunomiya Campus library
Featuring e-books and safety features such as low book racks
The Utsunomiya Campus library has introduced lower book racks to improve safety and create a more open, light-filled environment. Following extensive damage during the Great East Japan Earthquake, the library is now shifting to a digital collection.
The three-story library building has reading rooms on every floor as well as administration offices on the first floor and audio-video rooms on the second floor. Expensive dictionaries and reference books are being digitized for more convenient on-line access and to minimize damage in the event of a future earthquake or other disaster.
| | |
| --- | --- |
| Titles | 111,913 |
| Floor area | 1,565m2 |
| Seats | 355 |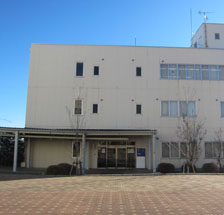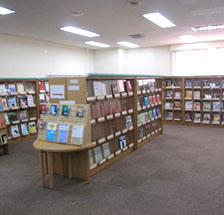 Fukuoka Campus library
An extensive range of facilities and equipment for every purpose
Fukuoka Campus library has 140 seats for browsing as well as cubicles for private study and multi-purpose training rooms for groups. With enough racks to accommodate around 87,000 items, the library has a vast store of specialist subject material available in the permanent collection.
| | |
| --- | --- |
| Titles | 63,811 |
| Floor area | 665m2 |
| Seats | 137 |