Department of Psychology
Well-balanced, practical education in a wide range of psychological fields
Psychology is a study to examine the ways people think and feel from a wide range of angles. Department of Psychology at Teikyo University provides a practical and well-balanced curriculum incorporating experiments, observation, and other methods to learn a variety of different psychological fields. These include developmental psychology, which focuses on the ways people grow and develop; social psychology, which seeks to understand the psychological mechanisms operating when interacting and forming relationships; and cognitive psychology, which examines people's perceptions, memories and so forth while incorporating experimental approaches.
The Department makes use of a behavioral development observation room with attached monitoring room, an experiment room with an electroencephalogram machine, soundproof booths for experiments and tests, and other facilities to achieve practical education that can equip students with specialized knowledge and skills.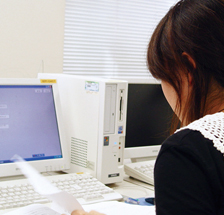 Four specific domains of study in the Department of Psychology
From the third year onward, students select one of the four domains.
Psychonomic Science Domain
Students study mechanisms of perception and cognition as the basis of human behavior, and behavioral changes as the results of experience.
Social Psychology Domain
Students learn how individual behavior is influenced by society and how society is shaped through interactions among individuals.
Developmental Psychology Domain
Students acquire the specialized knowledge about the mechanisms of human life-span development and fundamental skills to provide evidence based developmental intervention.
Clinical Psychology Domain
Students learn the basics of clinical psychology, examining how people interact with others, how and if such interactions change, and so forth.
Curriculum
The curriculum features numerous classes and seminars with small class sizes that incorporate experiments, hands-on learning, seminar-style learning and other approaches throughout the entire degree program, aimed at providing education that strikes good balance between basic and applied psychology. After acquiring fundamental knowledge in the field, students learn specialized methods and skills for experiments, observation, investigations, surveys, and testing. Students utilize these methods in the Department's experiment rooms and other facilities.
| | |
| --- | --- |
| Year 1 | In order to acquire fundamental knowledge for study in subsequent years, students learn the basics of psychology while also developing field-specific vocabularies. These efforts encompass perception, learning, cognition, development, social influences, personality, clinical psychology, and other areas. |
| | |
| --- | --- |
| Year 2 | Students deepen their understanding of psychological theories through experiments, report-writing and other such efforts. They also learn methods and skills for standard research approaches including experiments, observation, surveys, and testing. |
| | |
| --- | --- |
| Year 3 | Students choose one of four domains: psychonomic science, social psychology, developmental psychology or clinical psychology. They build up experience through hands-on learning and prepare to write their graduation theses. |
| | |
| --- | --- |
| Year 4 | Students carry out experiments, observation, and analyses to find solutions for their research questions. They also work on their graduation theses or take alternative subjects to graduation theses. |
Post-graduation Career/Academic Paths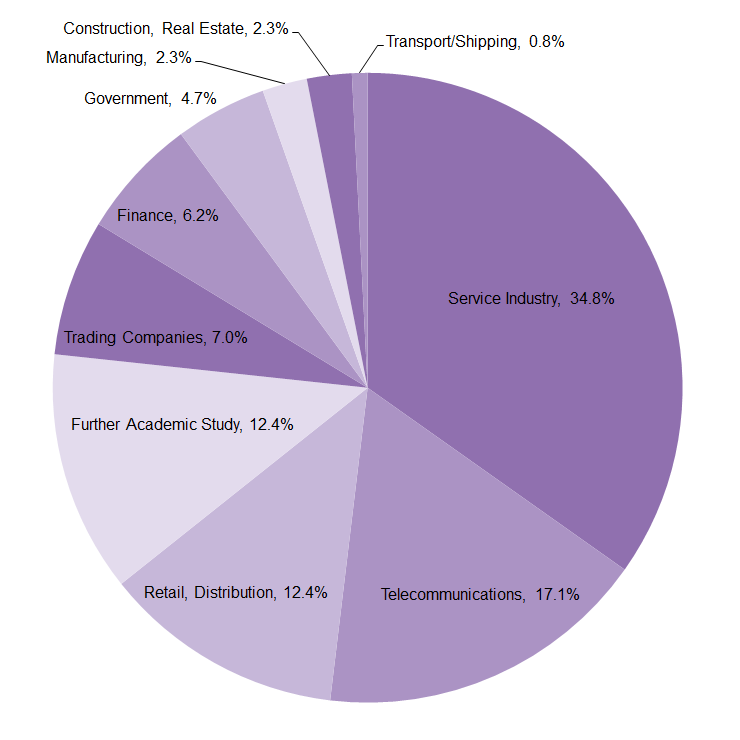 A large percentage of graduates go into the service industry and telecommunications, while some choose to continue their studies by attending graduate schools and other institutions of higher education.
Major Places of Employment and Study Following Graduation
Nichibei Co., Ltd. / Shaddy Co.,Ltd. / Hakuhodo Product's Inc. / TRC Library Service Inc. / SANWA Co., Ltd. / AIM SERVICES CO., LTD. / Tobu Hotel Management Co., Ltd. / I-NET CORP. / Resona Bank, Limited / Hanno-Shinkin Bank / Japan Post Group / Japan Pension Service / Fujimi City Hall / Sagamihara City Hall / Higashimurayama City Hall / JAPAN COAST GUARD / Ministry of Defense Japan Maritime Self-Defense Force
Teaching staff
In the Teikyo University Teaching Staff Database, information about the staff can be searched and viewed. (Japanese information only, may not cover all staff)