Department of Japanese Cultures
A comprehensive examination of Japanese culture past and present
The Department of Japanese Cultures considers the age-old question of "What defines Japanese culture?" through a unique series of classes. By studying the history of traditional music and performance students gain an insight into the background to modern Japanese culture. Even a disconnected world harbors the potential to provide a future place in the world. The Department of Japanese Cultures course leads to a variety of jobs including language and calligraphy teacher, curator and librarian, as well as careers in the publishing industry and the media.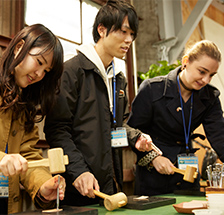 Curriculum
A comprehensive examination of Japanese culture past and present
The curriculum covers a variety of topics including ideology, literature, society, film, religion and popular culture in Japan, taught from beginner to advanced level by our dedicated team of instructors. This unique course seeks the answers to the age-old question: "What defines Japanese culture?"
| | |
| --- | --- |
| Year 1 | Year 1 presents introductory subjects on topics such as Japanese cultural history, the Japanese language, Japanese literature and modern thought. Students consider fields to nominate for future study during this year. |
| | |
| --- | --- |
| Year 2 | Year 2 is spent on elective subjects in areas such as film, performing arts, literature and culture. Students also choose a specific topic for in-depth research. |
| | |
| --- | --- |
| Year 3 | In Year 3, students attend classes related to their chosen research topic and take practical subjects to develop important skills in investigation, analysis and presentation. Students also choose a topic for the graduation thesis. |
| | |
| --- | --- |
| Year 4 | Year 4 involves preparing a graduation thesis as the culmination of four years of study. Students can chose to reprint the thesis in "Teikyo Nihon Bunka Ronshu" (Teikyo Collected Essays on Japanese Culture). |
Featured class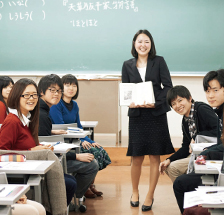 Studying the evolution of language for clues about Japanese culture
Onomatopoeia is the collective term for words that imitate the sound they describe, such as roar, screech and chirp. The Japanese language is notable for using a large number of onomatopoeic words. It has been discovered that in ancient times, the Japanese used to imitate the sound of a dog barking as byow-byow, whereas today we say wan-wan. The study of changes in onomatopoeic words over time provides a fascinating insight into the history of the Japanese language. "Language is so familiar to us that we generally don't pay it much thought," says Nakazawa. "In History of Japanese Language, students examine the ways in which our language has changed and evolved, then use their newfound expertise to explore topics of particular interest. In this way, students are able to interpret Japanese culture and describe it to those from other countries."
This subject also considers how dialects and youth language provide insights into Japanese history and culture. In this way, students learn to appreciate how even normal everyday words provide a link to our culture.
Post-graduation Career/Academic Paths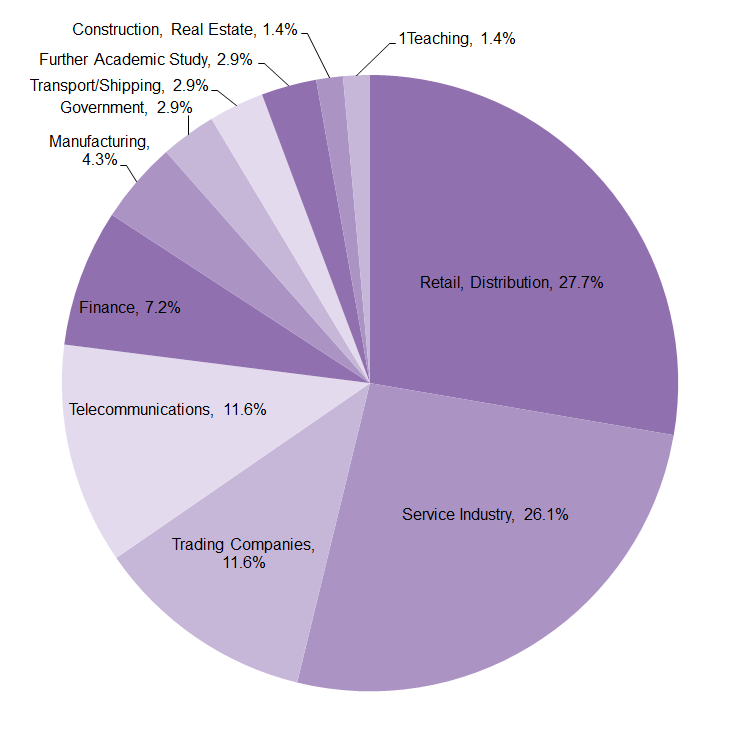 Students choose from various career paths including retail, distribution, the service industry and others.
Major Places of Employment and Study Following Graduation
GlaxoSmithKline K.K. / SEVEN-ELEVEN JAPAN CO., LTD. / NIKKEN CORPORATION / JAL Ground Service Co., LTD. / Starbucks Coffee Japan, Ltd. / Benesse Style Care Co., Ltd. / Asahi Mutual Life Insurance Company / Daiwa Securities Co. Ltd. / The Tama Shinkin Bank / JAPAN POST HOLDINGS Co., Ltd. / Kawasaki Municipal Junior High School / Hino City Hall / Mitaka City Hall
Teaching staff
In the Teikyo University Teaching Staff Database, information about the staff can be searched and viewed. (Japanese information only, may not cover all staff)
Student Message