Department of Education and Culture
Skills applicable to industry as well as the education sector
The Lifelong Education Course offers a variety of career paths including the civil service, private industry and teaching in the lifelong learning sector, while the Secondary Education Course is specifically geared towards teaching qualifications at junior and senior high school levels. The curricula in both courses are focused on theoretical and practical skills for the application of logical precepts of education in practice -skills which are equally useful in private industry as in the education sector.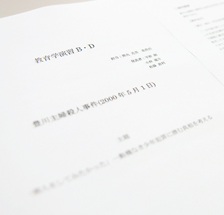 Courses
Choice of two vocational streams
The Department of Education and Culture offers two courses. In Year 3, students nominate one of the following fields for further study in accordance with their career aspirations.
Lifelong Education Course
This course provides access to a variety of career choices, typically involving lifelong education programs in the civil service or the private sector.
Secondary Education Course
This courses prepares students for accreditation as Grade 1 secondary teachers qualified to teach in junior high and senior high schools.
Curriculum
Learning to work with children while developing practical and effective strategies
Knowing how best to apply theoretical principles in real-world situations is a skill that is just as important in industry as it is in the teaching profession. Through school internships and volunteer programs, teacher trainees are provided with experience in the classroom environment where they can hone their skills working with children.
| | |
| --- | --- |
| Year 1 | Year 1 features a range of introductory subjects that provide a platform for subsequent years. Students are encouraged to adopt a broad outlook on the discipline of education as well as an understanding and appreciation of humankind in general and children in particular. |
| | |
| --- | --- |
| Year 2 | Year 2 introduces more in-depth subjects geared towards career choices and qualifications. Students explore topics in modern education and consider the school environment. At the end of Year 2, students choose one of the two streams: Lifelong Education or Secondary Education. |
| | |
| --- | --- |
| Year 3 | In Year 3, students complete subjects tailored to their choice of vocation. The Secondary Education course includes experience at nursing homes and a volunteering teaching component that provides direct experience of the teaching environment. |
| | |
| --- | --- |
| Year 4 | For graduation, students pursue a research project on a nominated topic. The internship program features in Year 4. Students seeking teaching qualifications go on teaching rounds and undertake practical components on education and schools. |
Featured class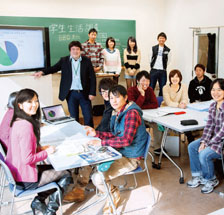 Learning to be a researcher through social investigation
Exercises in Education provides an overview of the principles of sociology of education and the methodologies of social investigation. Working in groups, students design a questionnaire, conduct interviews and analyze the findings. "Students design a questionnaire on the lifestyle patterns and habits of the student cohort at Teikyo Hachioji campus, then test it out on actual students," says Otawa. "Through this exercise they understand the importance of survey design, since a badly worded or poorly constructed question can compromise the accuracy of the results or yield an unexpected result. Up to senior high school level, learning generally involves poring over textbooks and listening to the teacher. At university, however, the focus switches to research and investigation. We encourage students to become researchers, capable of setting up a hypothesis then generating objective data to test the hypothesis."
In this way, Exercises in Education teaches the art of self-directed investigation, which is as important in private industry as it is in the teaching profession.
Post-graduation Career/Academic Paths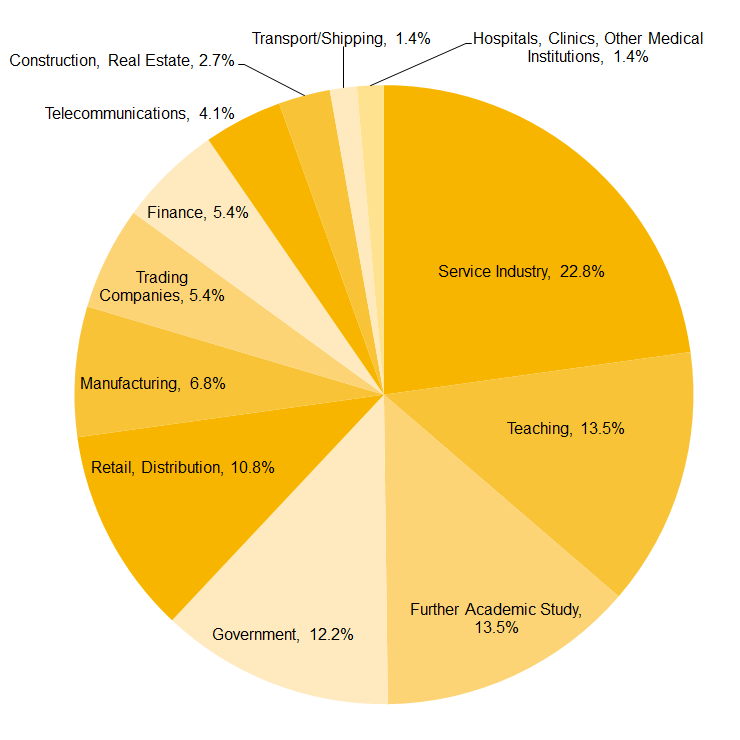 In addition to becoming teachers, graduates go into areas such as the service industry, retail and distribution. A number of students also choose to continue their studies by attending graduate schools and other institutions of higher education.
Major Places of Employment and Study Following Graduation
Shiseido Company, Limited / Canon System & Support Inc. / SEVEN-ELEVEN JAPAN CO., LTD. / Daily Sports Annai Advertising / Maru-T Ohtsuka Corp. / COCA-COLA BOTTLERS JAPAN INC. / NEC Corporation / OPEN HOUSE CO., LTD. / The Dai-ichi Life Insurance Company, Limited / Ome Shinkin Bank / Educational Institution Risshisha / Sendai Municipal Junior High School / Matsudo Municipal Junior High School / Tokyo Metropolitan Government / Kawaguchi City Hall / Machida City Hall / Edogawa City Hall
Teaching staff
In the Teikyo University Teaching Staff Database, information about the staff can be searched and viewed. (Japanese information only, may not cover all staff)
Student Message