Distance Education Course
Study IT at your own pace
The Distance Education Course offers Department of Information Science from the Faculty of Science and Engineering as well as the Division of Informatics Science from the Graduate School of Science and Engineering. The curriculum comprises e-learning and multimedia components that draw on the expertise of experienced technicians and teacher education. The final qualifications are the same as those for attending students: an engineering degree for faculty students or a Master's in Engineering for postgraduate students.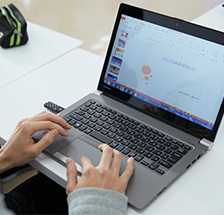 Faculty of Science and Engineering, Department of Information Science, Distance Education Course
Keeping pace with the rapidly evolving world of IT
The distance education course in information science offered by the Faculty of Science and Engineering provides a comprehensive grounding in information processing and communication technologies in the IT teaching and research domain. The course is offered to both undergraduate students and mature-age students interested in studying the latest IT developments in the university environment, and is designed to lead to careers and other opportunities.
Key facts
| | |
| --- | --- |
| Educational principles | |
| Teaching staff * | 4 |
| Students * | 424 |
Division of Informatics Science (Correspondence Course), Graduate School of Science and Engineering
Advanced tuition available to mature-age students
The distance education Information Sciences program offered by the Graduate School of Science and Engineering is an internet-based curriculum open to mature-age students as well as graduates. Students will learn advanced specialized theory in the information field and develop skills and competencies and develop advanced specialized understanding of information technology.
Key facts
| | |
| --- | --- |
| Program/outcome | Stage 1 of doctoral program - Master's Degree in Engineering |
| Educational principles | |
| Teaching staff * | 0 (Except for the full-time faculty) |
| Students * | 5 |