A day in the life of a Teikyo University student
Introduction to university life and the story of a day in the life of a student
A day in the life of a student
Tao Yibei, whose dream is to create a shop in China that propagates Japanese fashion. As she enjoys student life, she also works part time in a convenience store and as a language school teacher. She does her best to live on
the cheap by shopping at the least expensive places she can find. We follow her and see what a day in her life is like.
8:30 Leaving for school
She eats breakfast and heads to the university
8:45 Walking to the university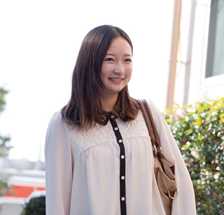 She walks to Hachioji Campus. Nearby, the Tama Monorail runs, connecting the Keio Line and the Odakyu Line.
9:00 Learning about risk management theory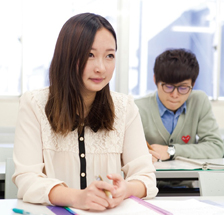 1st period class. Today, it's risk management theory. She pays careful attention to the lesson.
10:45 The library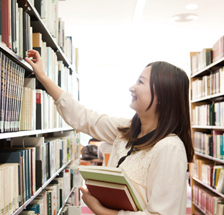 Because the library (MELIC) has an effective database, it's helpful for writing reports.
11:45 In front of the pass/fail announcement board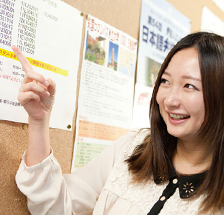 It just so happened that today was the pass/fail announcement for Tutors for International Students. She passed!!
12:00 Lunchtime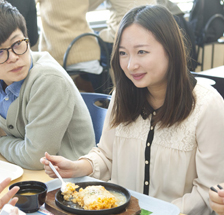 Lunch is at the student cafeteria. Today she's having omelet with rice.
12:30 To the part time job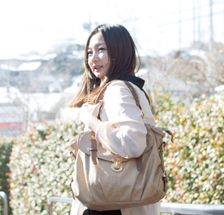 13:00 Part time job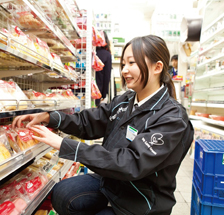 Working at a convenience store. She has to handle the pressure and respond quickly to customers' requests.
18:00 Shopping with a friend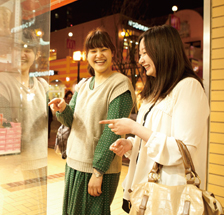 Today she's window shopping and dining with her friend in Tachikawa. She's good at singing JUJU at karaoke.
21:00 Returning home
Once a day, she calls or e-mails home. Lately, she gets told "you've really grown up" a lot.
Introduction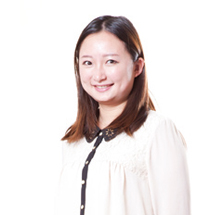 Tao Yibei (China)
Faculty of Economics,
Department of Business Administration
Student life is easier than one might think.
The kindness of others really helps support me.
I have no problems with listening to Japanese , but I've gotten help a number of times from teachers and friends with my speaking. Sometimes we have opportunities in class to discuss in Japanese, and now I'm really expressing my opinion there. I've learned how to do things like change trains as well as clean and do the laundry in my first time living alone, and even meet people from other places at work. I've grown a lot this past year, and gotten much closer to being independent. The university staff has really helped me out a lot. Now that I've been selected as an
international exchange assistant, I want to shift from being supported to giving support, and help out other study abroad students.
Data
Single room with a kitchen
Rent: ¥60,000
Getting to school: 20 minute walk
Part time jobs: convenience store attendant (1 day/week),
Chinese teacher at a language school (1 day/week)
Scholarships: none
My room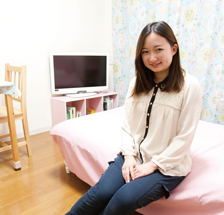 Since my room's on the corner of the building, I've got two balconies, and I like how open the room feels. I like to keep the interior decoration simple.
On living alone
I chose here because it's close to the school and because it's safe. Living here, I feel great because there's a lot of nature here and the air is clean. During the summer, I can hear the cicadas, and during the night, I can see the stars.
Q & A about student life
We got Tao to answer some questions about student life at Teikyo University from her perspective.
Q: Why did you choose Teikyo University?
A: After graduating from high school in China, I went to a Japanese language school for a year and a half. While I was there, one of my seniors at my part time job was a graduate of Teikyo University. Hearing about the university, it sounded like I could do the things I want to do, and so I decided to enroll.
Q: What are some of the points about Teikyo University that make it easy to learn here?
A: It's really great how you can choose to take Foreign Language Classes in Japanese or English. I can speak a little English, so at the start I chose classes in English, but now I want to get better at Japanese, so I'm taking classes in Japanese.
Q: Was there anything you were worried about after enrolling?
A: Yes, but the university staff helped me out with a lot of things, so I felt reassured. One thing that really helped me out was the study abroad student guidance that I received right after entering. They told me how to do things like the paperwork for my residence and applications that needed to be done for the city office . And because there were social events for study abroad students and Japanese students, I was happy about being able to make friends easily.
Q: What class do you like?
A: I like Macro/Micro Economics, which teaches the basics of economics, the most. It's interesting hearing about why certain economic events occur in society.
Q: What's your dream for the future?
A: I'd like to run a select shop near Shanghai in China. Because I like fashion and items with a Japanese culture element to them, I want to introduce those sorts of goods according to my tastes.