Department of Clinical Laboratory Science
Cultivating the art of data analysis and interpretation
In order to make an accurate diagnosis and design the most effective therapeutic regime, the doctor needs access to test results and analysis findings for blood tests and other tests, such as for viruses. Testing and analysis is performed by a medical technologist. There are two types of tests: laboratory or clinical tests, and biopsy procedures. Testing represents the first step in medical treatment, and plays a very important role in early detection of illness and disease. The Department of Clinical Laboratory Science trains students in the analysis and interpretation of test data.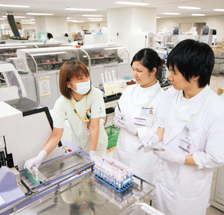 Curriculum
Nurturing data analysts who know how to interpret test data
The curriculum covers patient safety and interaction with patients, both very important factors in health care delivery. Students also study theoretical and practical aspects of clinical examination procedures, and develop strong ethical foundations for working as part of a team.
| | |
| --- | --- |
| Year 1 | Year 1 is spent on preparatory components including introductory subjects on chemistry, biology and medical science. Students also tackle a broad range of general education topics and develop an understanding of the ethics and outlook of the medical professional. |
| | |
| --- | --- |
| Year 2 | Year 2 focuses on the fundamentals of clinical examination procedures, particularly the medical basis that underpins the work of the medical technologist. Theoretical studies are augmented by practical exercises in experimental examination techniques. |
| | |
| --- | --- |
| Year 3 | In Year 3, students extend their knowledge into more specialized practical aspects of theory and technology in clinical settings and explore the correlation between examination and disease and associated clinical implications. |
| | |
| --- | --- |
| Year 4 | In Year 4, the focus shifts to clinical training in the hospital setting, drawing on previous studies to enhance practical skills. Students also pursue further studies in their chosen area of specialization and start preparing for the national accreditation examination. |
Post-graduation Career/Academic Paths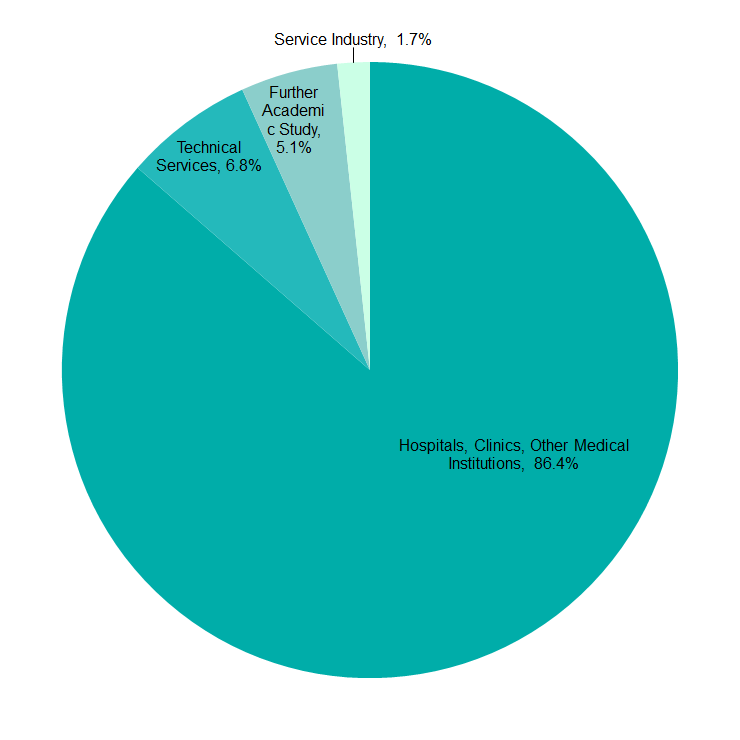 Most students go on to work at general hospitals, university hospitals and other such hospitals, although some choose to provide supportive medical services at standard, private-sector companies.
Major Places of Employment and Study Following Graduation
Teikyo University Hospital / Chiba University Hospital / Akita University Hospital / Nihon University Itabashi Hospital / Tokyo Women's Medical University Hospital / Showa University Hospital / St.Marianna University School of Medicine Hospital / Toho University Sakura Medical Center / National Hospital Organization Kanto Shinetsu Group / Chiba prefecture (Clinical laboratory technologist) / Iwate prefecture (Clinical laboratory technologist) / Tochigi Cancer Center / Odawara Municipal Hospital / Iwaki City Medical Center / Japanese Red Cross Medical Center / Mitsui Memorial Hospital / Toranomon Hospital / Shiraoka Central General Hospital
Teaching staff
In the Teikyo University Teaching Staff Database, information about the staff can be searched and viewed. (Japanese information only, may not cover all staff)
Digital brochure
The digital brochure of each undergraduate school and graduate school is available on our site. You can also access to English, Chinese, Korean and other languages by the automatic translation function.