Department of Economics
A broad selection of electives allows students to pursue specific areas of interest
The Department of Economics provides a practical curriculum that teaches the fundamentals of economic theory and also shows students how to analyze, evaluate and address the key issues in the domestic economy in Japan from a broader international perspective. The curriculum features a variety of different subjects covering both classical and modern Japanese economic schools of thought, as well as an internship program where students hone their skills in the business world. The top students are given the opportunity to pursue a five-year combined undergraduate and postgraduate master's degree program.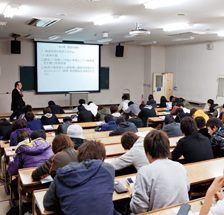 Curriculum
A practical curriculum with a strong focus on real-world economics
The strong practical focus of the curriculum is reflected in the diversity of the teaching staff, including business and government figures as well as university lecturers. The extensive range of electives allows students to develop a deeper understanding of specific aspects of economics that interest them most. By cultivating innovative thinking together with a competitive urge, the curriculum encourages students to create their own future.
| | |
| --- | --- |
| Year 1 | Year 1 is spent on introductory economics and general educational subjects. Students develop an understanding of the nature of society as a whole through the study of modern-day social structures and the mechanisms of economic activity. |
| | |
| --- | --- |
| Year 2 | Year 2 considers many different aspects of economics including economic history and environmental economics. Students also analyze the current state of the Japanese economy from an international perspective and master the basic tools of analysis. |
| | |
| --- | --- |
| Year 3 | In Year 3, the knowledge acquired in previous years is applied to more advanced concepts. Students examine economic strategies and policies in detail, identify issues and challenges in modern-day economies, and work together to develop realistic solutions. |
| | |
| --- | --- |
| Year 4 | Year 4 is spent pursuing a specific research project and writing a graduation thesis as the culmination of four years of study. Additional classes are provided for students seeking qualifications such as certified public accountant and licensed tax accountant. |
Featured class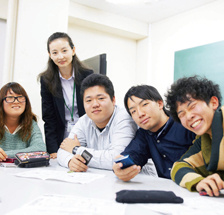 The ability to develop and express your ideas clearly
Working in groups of three or four, students examine corporate case studies and present their findings from the podium. This subject explores various aspects of corporate activity including industry structures, future trends, secrets of successful corporate management and employee work patterns. The student-led exercises are an ideal preparation for presenting in the workplace. Students work together on activities such as preparing a resume, developing presentation skills and fielding questions after a presentation. The second half of the course is spent debating a variety of challenging topics. "The most important skill required for presenting and debating is the ability to think clearly in your own head," says Kan. "In a presentation, you have to sort through your ideas and tailor your delivery to the audience reaction. During a debate, you have to listen carefully to the other side, work out why you don't agree with their propositions, then communicate your arguments effectively." In this sense, students are developing basic skills that will stand them in good stead in their future careers.
Post-graduation Career/Academic Paths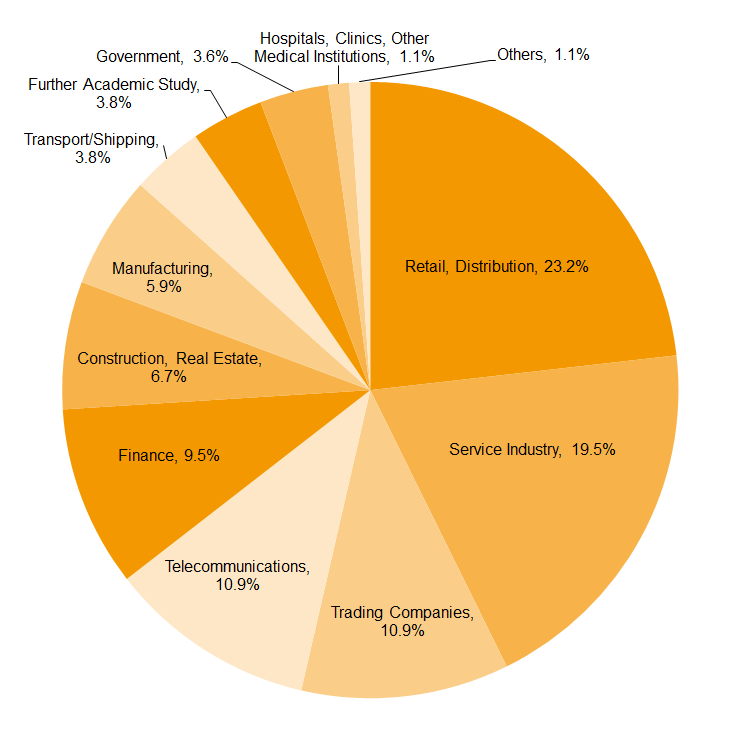 A relatively large number of graduates join the retail, distribution and service industries, although students overall choose from a wide range of fields including trading, telecommunications, finance and others.
Major Places of Employment and Study Following Graduation
Avex Inc. / DAIWA HOUSE INDUSTRY CO., LTD. / ITOCHU-SHOKUHIN Co., Ltd / Denka Company Limited. / YANASE & CO., LTD. / Tokyo Metro Co., Ltd. / East Japan Railway Company (JR-EAST) / JAPAN POST BANK Co., Ltd. / JACCS CO., LTD. / THE NAGANO BANK, LTD / THE BANK OF SAGA LTD. / THE TOCHIGI BANK, LTD. / The Shiba Shinkin Bank / Toyo Securities Co., Ltd / Tokai Tokyo Financial Holdings, Inc. / Tokyo Metropolitan Police Department / Kawaguchi City Hall
Teaching staff
In the Teikyo University Teaching Staff Database, information about the staff can be searched and viewed. (Japanese information only, may not cover all staff)