Department of Orthoptics
A state-of-the-art teaching environment for theoretical and practical study
Advances in medical technology have brought diversification and specialization to the health care industry, with the traditional two-tier health care model of doctors and nurses now extending to hospital managers and specialized equipment operators. An orthoptist is essentially a nationally accredited specialist technician providing ophthalmological and orthoptic testing and treatment on behalf of the doctor. The Department of Orthoptics course augments theoretical and practical study with an appreciation for patient welfare.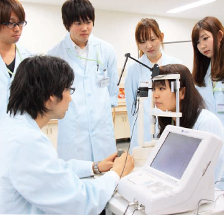 Curriculum
A state-of the art teaching environment for theoretical and practical study
The course is taught by eminent instructors operating at the forefront of the industry and features clinical training at Teikyo University Hospital, a leader in squint correction operations with Japan's largest cohort of patients suffering from squint and weak eyesight conditions. A varied program of training drills and exercises provides a balanced and stimulating curriculum.
| | |
| --- | --- |
| Year 1 | Year 1 covers ethical considerations for specialist technicians; working as part of a medical team; and fundamental concepts and principles in medicine and health care. |
| | |
| --- | --- |
| Year 2 | Year 2 extends to introductory subjects in a range of fields. Students acquire the fundamentals for subsequent specialization and learn about vision and orthoptics through a combination of theoretical and practical studies. |
| | |
| --- | --- |
| Year 3 | Year 3 involves more hands-on practical work in areas such as ophthalmological testing and design of orthoptics plans and training programs, with a stronger focus on skills to adjust to the real-life situations. |
| | |
| --- | --- |
| Year 4 | Students convert theory into practice via clinical training exercises in public and private hospitals and hone their application skills while preparing for the National Examination for Orthoptists. |
Featured class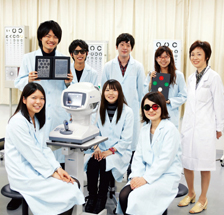 Developing skills in eye testing and good communication
An orthoptist is a nationally accredited specialist technician providing ophthalmological and orthoptic testing and treatment on behalf of the doctor, including tests for diagnosing eye conditions and therapeutic exercises to correct squints and weak eyesight. Orthoptic Testing Training involves the study of testing techniques and processes for the orthoptist. Classes are held at a training center equipped with the latest actual orthoptics testing equipment and devices and is designed to equip students with the skills to begin work immediately upon graduation.
In addition to learning how to use the equipment in a real-life setting, it is equally important for students to develop good communication skills for interacting with patients and elucidating key information about their condition. "Our job is to determine the needs of the doctor and design appropriate tests so that we can supply an accurate diagnosis," says Matsuoka. Good communication is the ultimate goal of the orthoptist.
Post-graduation Career/Academic Paths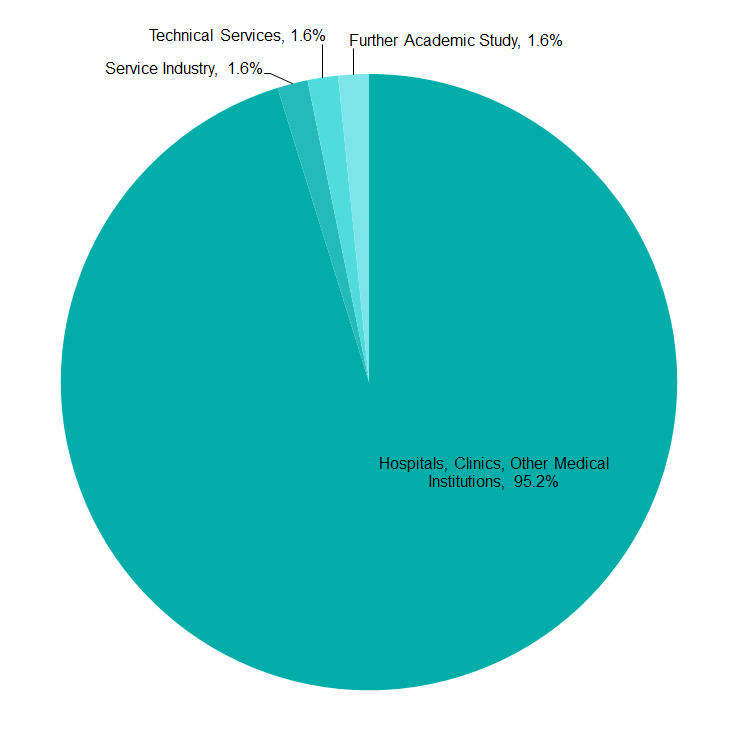 More than 90% of students choose to work in medical clinics, hospitals and similar.
Major Places of Employment and Study Following Graduation
Juntendo University Hospital / Nihon University Itabashi Hospital / Yokohama City University Hospital / UNIVERSITY OF YAMANASHI HOSPITAL / Kanazawa University Hospital / National Hospital Organization Saitama National / Tokyo Metropolitan Children's Medical Center / Kameda Medical Center / Ozawa Hospital / Shuuwa General Hospital / Seirei Numazu Hospital / Nishi Omiya Hospital / Inoue Eye Hospital / Ra Eye Clinic / Musashino Towers Yukari Eye Clinic / Matsumoto Eye Institute Keio Hachiouji Clinic / Kakinoki Eye Clinic / TSUCHIYA EYE CLINIC
Teaching staff
In the Teikyo University Teaching Staff Database, information about the staff can be searched and viewed. (Japanese information only, may not cover all staff)
Digital brochure
The digital brochure of each undergraduate school and graduate school is available on our site. You can also access to English, Chinese, Korean and other languages by the automatic translation function.