Department of International Economy
Developing human resources capable of serving on the global stage
As globalization makes rapid progress, the importance of economic relations with other parts of Asia and the world at large is becoming an increasingly significant factor in sustaining and developing the Japanese economy. The Department of International Economics teaches students everything from the basics of economics to practical, applicable skills. Education covers the economies, societies and governments of Asia, the United States, the European Union and other regions throughout the world, which are defined by rich diversity, and also cultivates human resources capable of serving on the global stage through overseas study programs and other efforts meant to help to develop English language skills.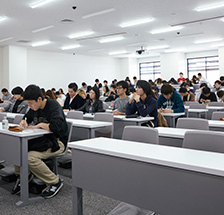 Curriculum
Teaching the basic of economics while equipping students with a wide range of knowledge
In order to instill in students an understanding of real economy in Asia and other parts of the world and equip them with the necessary analytical skills, the Department starts with the basics of economics and then has students apply this knowledge in more specific fields such as globalization, international economy and Asian economy. In order to understand economy in Asia, which tend to be very complex, we design our curriculum to include the study of culture, history, political science and other such topics as well. We emphasize small class sizes for required subjects to facilitate effective development of presentation skills, expressive abilities and other important skill sets while exploring various ways to approach and solve problems and cultivating in our students the abilities needed to turn ideas into action. In addition, our educational approach incorporates numerous English language classes with the goal of improving English communication abilities to the levels expected of global human resources.
| | |
| --- | --- |
| Year 1 | Learn economics and English through introductory-level and basic studies. |
| | |
| --- | --- |
| Year 2 | Better understand the international economy from a wide range of perspectives and develop analytical abilities. For interested students, we offer overseas study programs for learning practical skills. |
| | |
| --- | --- |
| Year 3 | Students learn about the world economy (including India, Russia, Europe) along with the skills needed to analyze them. |
| | |
| --- | --- |
| Year 4 | Bringing together their four years of study, students aim to become active global human resources in Japan and beyond. |
Featured class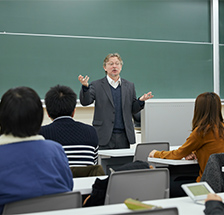 We offer courses that foster international perspectives and critical thinking skills
The Department of International Economics is led by teaching staff with long-term experience living overseas in different parts of Asia, making it possible to offer more rewarding educational experiences. Students develop the abilities needed to solve wide-ranging problems related to the economy, government, culture, history and more on a worldwide scale by learning practical skills related to international economy and society. Furthermore, by taking part in overseas study programs and corporate internships, students develop their English language skills to enable better understanding of foreign cultures along with more internationally-minded thinking.
Post-graduation Career/Academic Paths
It appears that most students go on to work for international organizations, local-government international divisions/departments, etc.
Teaching staff
In the Teikyo University Teaching Staff Database, information about the staff can be searched and viewed. (Japanese information only, may not cover all staff)