Graduate School of Public Health
Global professionals in public health and health care and agents of change
As the first graduate school in Japan to offer courses in public health, the Graduate School of Public Health is a leader in this sector. The School offers a range of vocational courses geared towards practical professional skills (as opposed to research) and doctoral courses that address the challenges of reform and innovation in the rapidly-changing health care sector.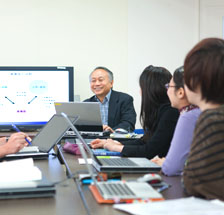 Key facts
Specialization
Division of Public Health
Program/outcome

Professional degree course: Master's Degree in Public Health
Stage 2 of doctoral program (Doctoral Degree Program): Doctorate in Public Health

Educational principles
Campus
Teaching staff *
15
Students *
57
Divisions
Division of Public Health
Professional degree course
The professional degree course focuses on health standards among patients and in the community, standards of health care services in society as a whole, and continuous improvement of standards of health care delivery.
Features
Teaching program developed in conjunction with Harvard University
Focus on local and international aspects of public health care
Opportunities to develop useful problem-solving skills in clinical settings
Doctoral course (Doctoral Degree Program)
The internationally relevant doctoral course achieves a perfect balance between research and practice and is designed to produce highly skilled administrators with the capacity to contribute on a global scale as well as highly skilled instructors at the tertiary level to inspire the next generation of public health professionals.
Features
Unlike conventional courses that are preoccupied with the quest for truth, this course focuses on developing problem-solving skills in the public health arena.
The research thesis is augmented by a strong emphasis on cultivating leadership and management skills for facing challenges in public health care.
The doctoral course is the second half of the course only, and can be completed in three years. It features a combination of compulsory subjects (Public Health Theory I through V) and vocational elective subjects that link back to the vocational course.
Guest lectures delivered by visiting staff from Harvard University and other Western public health graduate provide students with a global perspective including updates on the latest insights and developments in the public health sector.
International students are actively welcomed and the course provides a multicultural learning environment with a curriculum formulated to international standards and English-language presentations from guest lecturers mentioned at 4 above.
Exchange programs with institutions such as the Institute for Science of Labor (on industrial health and environmental health) and University of Tokyo graduate schools (on public health policy and health care management) drive ongoing enhancement of teaching and research standards across the board.
Teaching staff
In the Teikyo University Teaching Staff Database, information about the staff can be searched and viewed. (Japanese information only, may not cover all staff)
Digital brochure
The digital brochure of each undergraduate school and graduate school is available on our site. You can also access to English, Chinese, Korean and other languages by the automatic translation function.