Faculty of Science and Engineering
Encouraging innovative technology and flexibility of thought
The key underlying philosophy at the Faculty of Science and Engineering concerns the question of how to best utilize the available resources—materials, energy, data and lives—for the benefit of humanity and social welfare. Course content is constantly updated to reflect rapid advances in science and technology, major upheavals in industry structures, and the ever-changing global environment. Students in the Faculty of Science and Engineering are required to undertake a number of core subjects that are common to the humanities and social sciences, as part of a well-rounded education with a global perspective.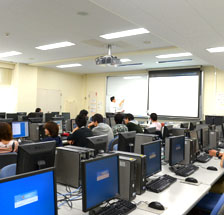 Admission policy
In consideration of the various complex and intertwined problems and challenges that face our contemporary society on a global scale, the Faculty of Science and Engineering considers the cultivation of wide-reaching viewpoints to be essential. In response, we have our students study a wide range of fundamental academic subjects and provide practical learning and education, in consideration of actual workplace operations, to foster leading-edge skills and techniques as part of efforts to train technical experts with high creativity rooted in School Philosophy.
When screening applicants, we look for students that have developed, during their high school years or studies in other educational institutions, basic academic proficiency in at least two of the four science-related areas of mathematics, physics, chemistry and biology (requirements vary depending on post-enrollment area of specialization) as well as proficiency in communication-related subjects such as Japanese and English.
We seek students who have cultivated, through studies in their high school years (or at other educational institutions), the following.
1. Rich sensibilities in the fields of science and engineering, as well as interest in and the will to pursue challenges in almost any relevant area
2. The ability to communicate well with other people and organizations in the fields of science and engineering as well as related fields, and the drive to proactively take part in measures toward solving a variety of different problems
Key facts
Department

Department of Mechanical and Precision System
Department of Aerospace Engineering
Department of Information and Electronic Engineering
Department of Biosciences
Department of Information Science Correspondence Course (Distance Education Course)

Syllabus
Campus
Teaching staff *
73 (Including the 5 teaching staffs of Distance Education Course)
Students *
1,307