Faculty of Education
Cultivating the skills to contribute to society in the wider sense
Originally set up as the Department of Education within the Faculty of Liberal Arts in 1973, the Faculty of Education was restructured as an independent entity in 2012 to accommodate the growing need for a more practical and immediate focus in teacher training accompanied by quality guarantees. The Faculty sees teacher training as part of a wider discipline encompassing humanity, education and society and to this end encourages educational and research connections between schools and communities and the world at large. In order to nurture the potential in each and every student, the educational programs are designed to provide a learning environment conducive to serendipitous discovery, independent growth and development, and collaboration and joint endeavor between students.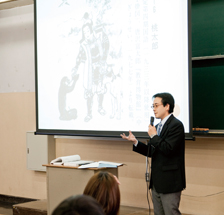 Admission policy
The Faculty of Education aims to provide students with theoretical knowledge in various areas of educational science along with practical teaching skills. To this end, we offer wide-ranging, thoroughgoing education and perspectives and equip students with specialized knowledge and skills, while also fostering the drive necessary for lifelong learning which in turn promotes the vitality and passion demanded by today's school environments. Through such education and research endeavors, we focus our efforts on the training of human resources to work in secondary education and primary education; personnel capable of obtaining multiple certifications in the preschool education field, which encompasses nursery schools / kindergartens and daycare facilities; and human resources capable of serving in the field of lifetime learning and a wide range of other such education-related areas.
In addition to developing sound academic abilities through courses of study, it is important for high school students (and those at other institutions) to actively take part in a wide variety of activities and experiences both inside and outside of the school environment and thus enrich one's sensibilities and mind, foster sociability, grow and develop one's body in a healthy manner, and grow one's interest in a diverse range of issues and areas throughout society.
We seek students who have pursued the above during their high school years (or at other educational institutions) and possess the following.
1. A wide-ranging interest in people, education and society, as well as the desire to learn more about these and continue learning throughout one's life
2. The strength and perseverance needed to independently set one's own goals and engage in thoroughgoing studies in pursuit of said goals
3. A strong interest in education, daycare and so forth, and the ethical views and sense of responsibility needed to govern oneself in related occupations
Key facts
Department

Department of Education and Culture
Department of Elementary Education

Campus
Teaching staff *
52
Students *
1,435