Faculty of Pharma-Science
Pharmaceuticals as science, helping to improve our health
The pharmacist is a specialist in drugs who is an increasingly important part of health care delivery working in conjunction with doctors and nurses. The Faculty of Pharma-Science equips students with theoretical and practical skills in a range of fields from basic chemistry through to advanced medical care, as well as compassion with a scientific bearing. The course features an extensive practical component at affiliated hospitals and dedicated training facilities.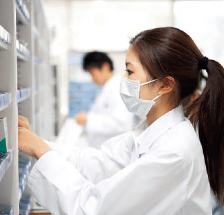 Admission policy
The Faculty of Pharma-Science strives to foster pharmacists who can earn the trust of society at large, who possess practical skills and abilities based on firm knowledge and training, and who exhibit problem-solving skills and a strong drive for self-improvement rooted in keen insight and an inquisitive spirit.
Pharmacists are medical care professionals who must understand the properties of pharmaceutical drugs in scientific terms and treat them accordingly. They must also develop rich humanistic qualities. Although students in the Faculty of Pharma-Science receive a wide-ranging education in general scientific fields, students are expected to have already learned a firm foundation of scientific understanding during their high school years (or at other academic institutions).
We seek students who, through wide-ranging studies in their high school years (or at other educational institutions), have developed the following.
1. A strong desire to be of use in the promotion of greater health for people everywhere
2. Scientific knowledge with a central focus on chemistry, mathematical abilities, and logical thinking skills
3. A deeply inquisitive spirit
4. The willingness to put forth effort toward achieving effective communication
Key facts
| | |
| --- | --- |
| Campus | |
| Teaching staff * | 86 |
| Students * | 1,917 |
Curriculum
"Health care scientists" with the best interests of the patient at heart
There is a strong emphasis on developing patient engagement and communication skills through a variety of theoretical training and practical exercises such as small-group discussions and simulated medication guidance sessions. As a major medical teaching university with an affiliated hospital, Teikyo University is able to offer an extensive practical training component designed to produce pharmacists with a scientific approach to drugs.
| | |
| --- | --- |
| Year 1 | Students acquire a basic grounding in the field of pharmacology by studying the role and ethical principles of the pharmaceutical specialist in the context of health care delivery while engaging in a range of stimulating chemistry and biology experiments. |
| | |
| --- | --- |
| Year 2 | Students study the basics of medicine and pharmacology through units in medical pharmacy, biological pharmacy and pharmaceutical health together with practical training exercises. |
| | |
| --- | --- |
| Year 3 | Year 3 builds on the work of Years 1 and 2 with a stronger focus on applications of pharmacology and medical science and a particular emphasis on practical studies designed to foster an appreciation of the outlook and bearing of the health care professional. |
| | |
| --- | --- |
| Year 4 | Year 4 is spent preparing for in situ training in hospitals and pharmacies through the formalization of theory, techniques and understandings studied in previous years, along with a variety of practical drills and exercises. |
| | |
| --- | --- |
| Year 5 | Students further their practical knowledge, skills and understandings through practical training exercises, while also developing their skills as scientists through undergraduate research projects at affiliated institutes. |
| | |
| --- | --- |
| Year 6 | Students write a graduation thesis that consolidates the research achievements of the past five years, while reinforcing their various skills and competencies. The second half of Year 6 is spent primarily on preparation for the National Examination for Pharmacists. |
Featured class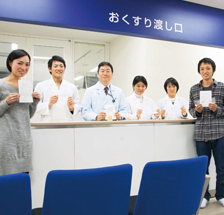 The six core roles of the pharmacologist
The cutting-edge equipment and facilities constitute one of the key attractions of the Faculty of Pharma-Science. The multi-purpose training center simulates a real-life hospital and pharmacy environment and is used to conduct a wide range of practical training drills and exercises in fourth year.
"The subject covers the six core roles of the pharmacologist, including effective communication with patients, preparation of syrups, powders and injections, and analysis of prescriptions," says Maruyama. "We have 12 instructors working two at a time to ensure that all students understand the purpose and objectives of each role. In addition, students use the mock-up pharmacy to engage in role-playing exercises designed to illustrate the relationship between patient and pharmacist, including dispensing advice." In this way, students acquire the basic skills and competencies for in-situ training in actual hospitals and pharmacies in the fifth year.
Post-graduation Career/Academic Paths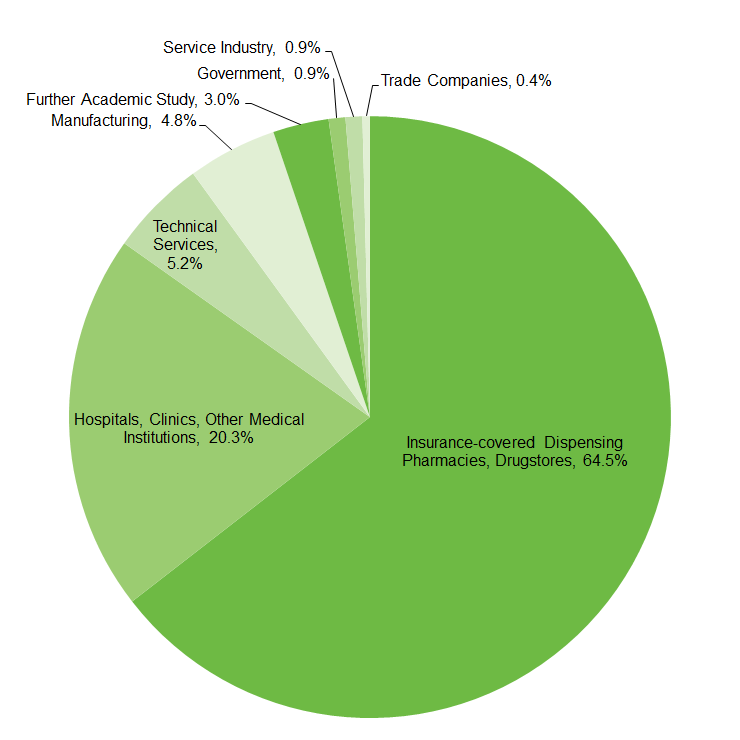 Following graduation, about 70% of students choose to work in insurance-covered dispensing pharmacies and drugstores, and about 15% choose to work in hospitals, clinics and other medical institutions.
Major Places of Employment and Study Following Graduation
Teikyo University Hospital / Teikyo University Chiba Medical Center / National Hospital Organization Kantoukoshin'etsuBlock / Tokyo Metropolitan Geriatric Hospital/ IMSUT Hospital (The Institute of Medical Science, The University of Tokyo) / Jundento University Urayasu Hospital / Nihon University Itabashi Hospital / Japanese Red Cross Medical Center / Mitsui Memorial Hospital / Teine Keijinkai Hospital / Saku Central Hospital / Japanese Red Cross Society Suwa Hospital / SAITAMA SEKISHINKAI Hospital / Funabashi General Hospital / Kawasaki Medical Co-operative Kawasaki Kyodo Hospital / Tokyo Nishi Tokushukai Hospital / Nerima Hikarigaoka Hospital / Sainokuni Higashiomiya Medical Center / TMG Asaka Medical Center / Teikyo University Graduate School of Pharma-Science / Hiroshima University Graduate School of Biomedical & Health Sciences
Teaching staff
In the Teikyo University Teaching Staff Database, information about the staff can be searched and viewed. (Japanese information only, may not cover all staff)
Digital brochure
The digital brochure of each undergraduate school and graduate school is available on our site. You can also access to English, Chinese, Korean and other languages by the automatic translation function.