A day in the life of a Teikyo University student
Introduction to university life and the story of a day in the life of a student
A day in the life of a student
Anna Horuzina, whose dream is to be a psychology counselor and help people. As she enjoys student life, she also works part time as an English teacher at a pub. We follow her and see what a day in her life is like.
8:30 Getting ready in the morning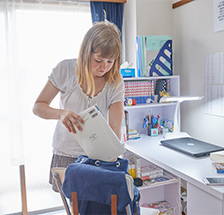 She eats breakfast and heads to the university
9:00 Walking to class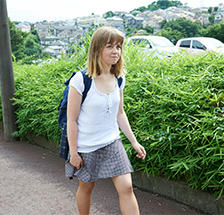 She walks to Hachioji Campus. Nearby, the Tama Monorail runs, connecting the Keio Line and the Odakyu Line.
9:30 Checking the bulletin board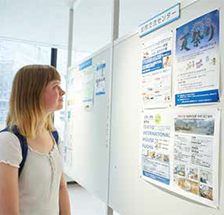 She checks the latest information on the bulletin board.
10:00 Studying at TeLaCo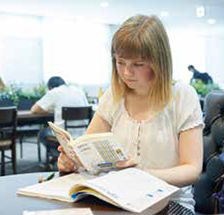 There is a language learning space called TeLaCo, Teikyo Languge Commons in Hachioji Campus, and she uses it a lot.
12:00 Lunchtime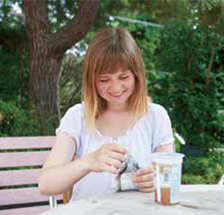 She eats lunch before the class.
13:00 Attending Introduction to Clinical Psychology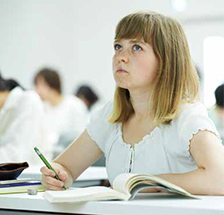 At 3rd period, she attends the class. She pays careful attention to the lesson.
14:45 Preparing a report in the library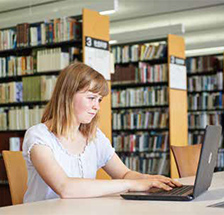 She concentrates on writing a report at Media Library Center.
19:30 Working part-time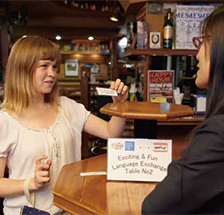 She works part-time as an English teacher at a pub.
Introduction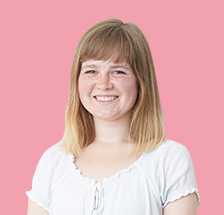 Anna Horuzina (Latvia)
Department of Psychology,
Faculty of Liberal Arts
I love places full of greenery that are similar to my home country. I'm busy studying every day to make my aspirations for the future come true.
When I was a child, I watched Japanese anime and fell in love with the beauty of the Japanese language. I began studying Japanese in high school. My goal for the future is to be a psychology counselor and help people. Many of the teachers at Teikyo University have experience working in a company, so I get to hear various stories that aren' t just academic and I learn a lot from them. In the class, Assessment of Clinical Methods, we practice talking with clients. The practical content is helpful. When I have free time, I often use the library (MELIC). I love the abundance of nature visible from the window, which is similar to my own country. I can really relax and get a lot of work done when writing reports.
International Students Dormitory
We provide dormitory for international students and Japanese students. It enables them to communicate with each other and experience different cultures. Please refer to the following site for the details.