The Karatedo Club won three crowns at the Kanto University Karatedo Championships
On October 10, 2022 (Monday/holiday), at the 65th Kanto University Karatedo Championship held at Nippon Budokan (Chiyoda-ku, Tokyo), the Teikyo University Karatedo Club won the men's and women's team kata, and the men's team kumite. I won the championship and achieved 3 crowns. The women's group kumite was eliminated in the semi-finals and placed 3rd. The men's and women's team kata and men's and women's team kumite events were held in total of four events in this tournament. In addition, 5 people were selected for the excellent player award. This year, while paying attention to preventing the spread of the new coronavirus infection, it was the first time in a long time that the match had an audience.
In the morning, the group kata was a calm demonstration for both men and women, and the match was carried out without danger even in the final. In particular, in the "decomposition," which is performed only in the finals, the kata is actually demonstrated. was. In particular, there was a scene in which Shihan Kagawa from the Karate Club of our university praised the students unreservedly when it came to breaking down the women's group kata. In the men's group kumite, the men's captain Hikaru Miyazaki (Faculty of Medical Technology 4th year) pulled back from the frustration of the spring tournament, and the reliable performances of the 4th graders led the match, and there was also a new force. The momentum of the 1st and 2nd graders was added, and it was a convincing victory. The women's group kumite team was led by the women's captain Yuzuki Sawae (4th year Faculty of Medical Technology), who won the championship in the spring.
Regarding the result of this year's triple crown, Shihan Kagawa said, "The result of this year was the result of the state of daily practice. That's why practice is important." I was looking forward to the competition. The next tournament is eagerly awaited by the aspirations of the students who still show dissatisfied expressions even after winning the championship. We look forward to your continued warm support for the Karate Club.
■ Outstanding Player Award
Hikaru Miyazaki (Faculty of Medical Technology 4th year)
Ren Ikeda (Faculty of Medical Technology 4th year)
Yuzuki Sawae (Faculty of Medical Technology 4th year)
Daiki Kataoka (2nd year, Faculty of Medical Technology)
Genki Takeuchi (Faculty of Education 1st year)
Click here for details of the competition results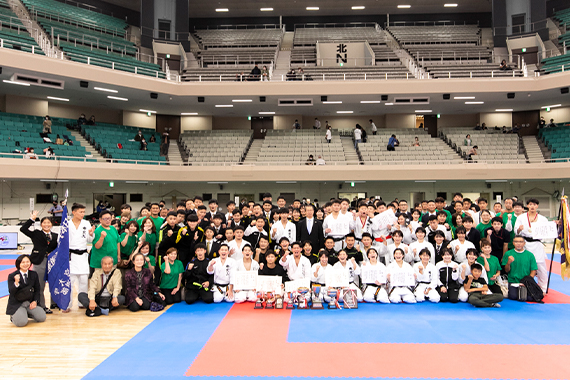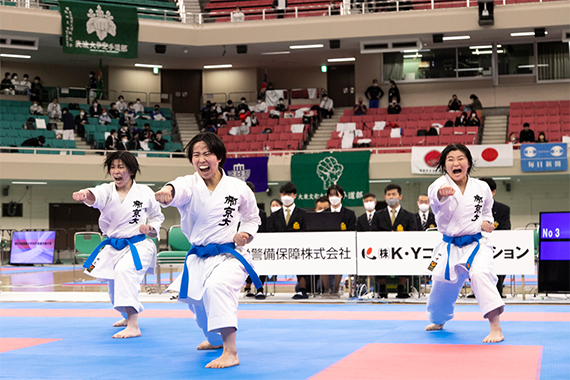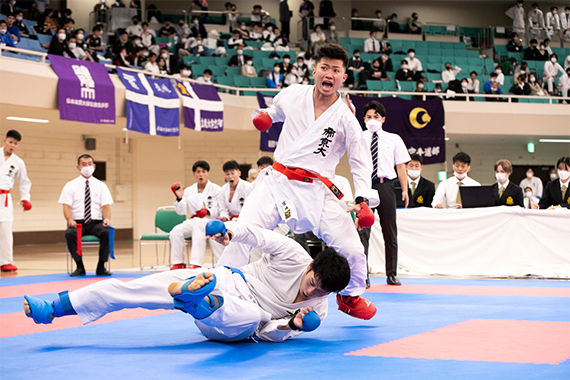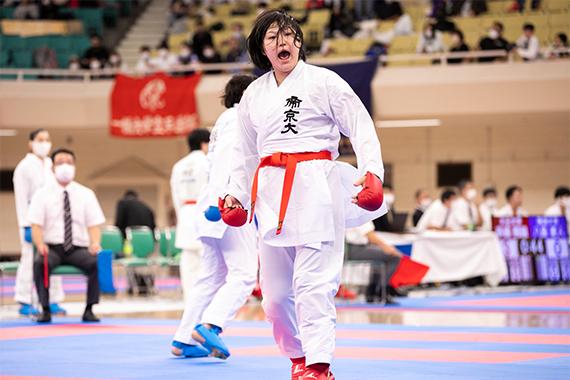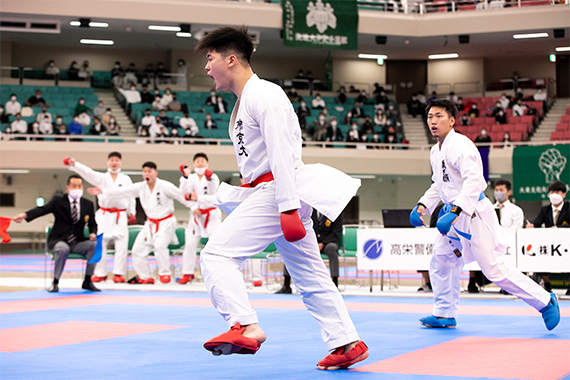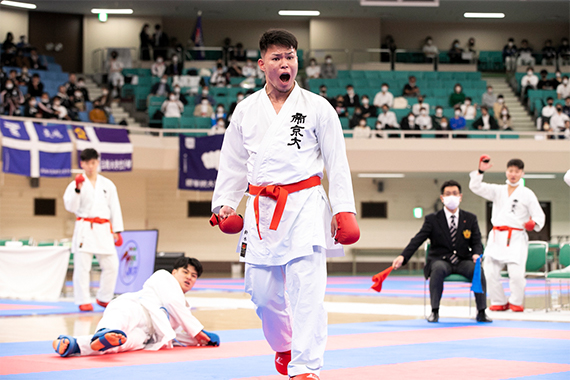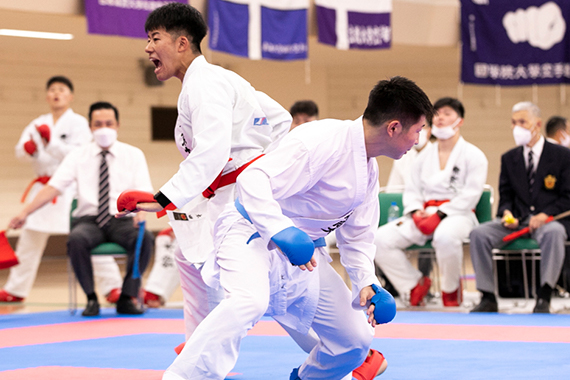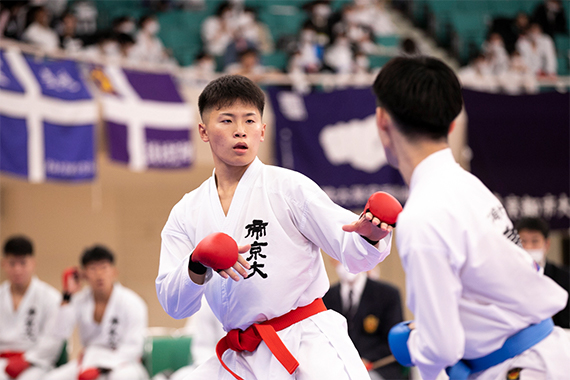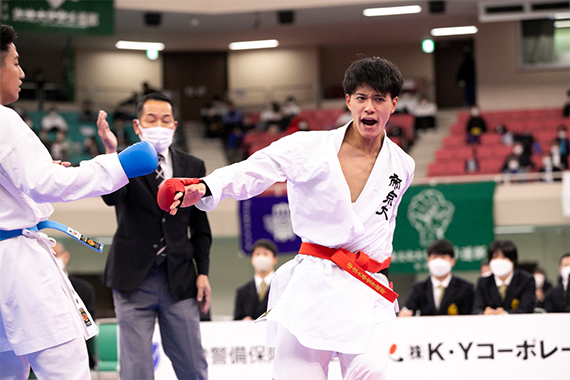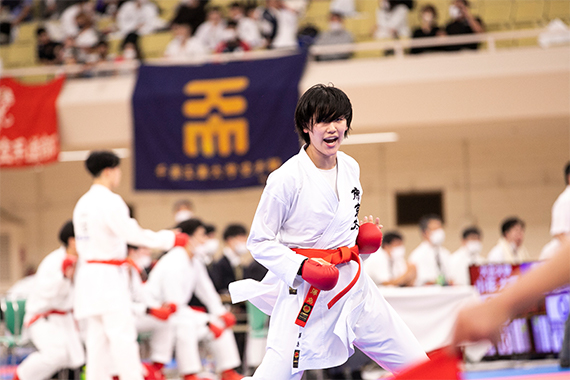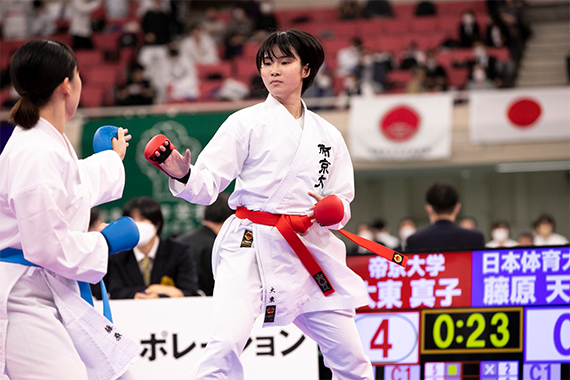 (Photo by Seiya Kawamoto)