Held
a diploma awarding ceremony for Dr.
Hachioji Campus
On Monday, December 13, 2021, a doctoral award ceremony was held at Teikyo University Hachioji Campus, and a diploma was awarded by the Chairman and President of the University, OKINAGA Yoshihito. Yuya Hasegawa, who was awarded a degree, entered the Department of History, Faculty of Liberal Arts, in 2009, and then studied up to the doctoral course in the Division of Japanese History and Cultural Properties Graduate School Graduate School of Liberal Arts, University of Tokyo. After that, even after becoming a member of society, I continued my research until this year, and I have submitted this paper.
The theme of the dissertation is "Development of military history research in the compilation of the public war history of the Pacific War", which is related to research on how to keep records of the Pacific War in postwar Japan and history compilation activities by public institutions. It seems that it was very difficult to collect materials, such as those with no records left due to burning, unorganized outflow to the country, and the aging of the people who knew at that time. Through his research, Mr. Hasegawa reaffirmed the importance of digging up the records of that time and storing them properly, and he says that he will be able to continue his research as a lifework in the future.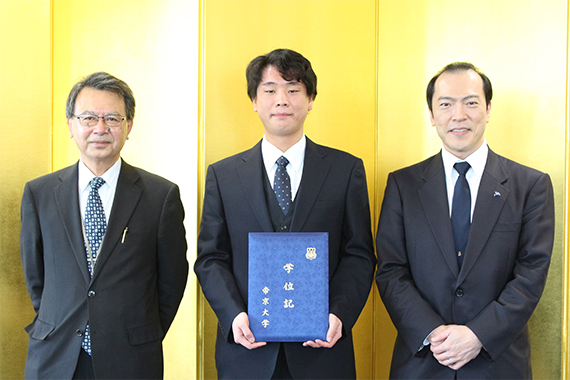 Contact for inquiries regarding this matter
Teikyo University Hachioji Campus Public Relations Group
TEL: 042-678-3311
E-mail: h_koho@teikyo-u.ac.jp