Department of History
A dialog with the past and present to create a better future
The Department of History offers six courses: Japanese Course provides a comprehensive overview of Japanese history; Eastern Studies Course focuses on the history of cultural interaction in China and the East Asia region; Western Studies Course covers the broad sweep of Western history; Geology Course examines concepts and skill sets in geography; and Archeology Course attempts to reconstruct history from archeological remains and ruins. In addition to the six courses, students can choose from a range of unique elective subjects to pursue further studies in areas of interest. In this way, students fashion their career paths from a wide range of ideas and topics.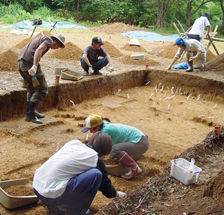 Courses
Six courses designed to encourage specialization
Students choose one of the six course options in Year 2. Through a combination of small-group textbook study and workshops, students identify and pursue particular areas of interest and build up a knowledge base in specific areas of specialization.
Japanese Course
Eastern Studies Course
Western Studies Course
Geology Course
Archeology Course
Art History/Cultural Heritage Course
Curriculum
A dialog with the past and present to create a better future
Students choose from six course options: Japanese, Eastern Studies, Western Studies, Geology, Archaeology. Each course uses a combination of lectures, practical exercises and textbook study to explore topics in depth. The curriculum examines modern needs in relation to history and offers a variety of unique subjects including regional cultural history, paleography, art history, women's history and family history.
| | |
| --- | --- |
| Year 1 | Year 1 is dedicated to a basic grounding in history, and includes an overview of course content (Japanese, Eastern Studies, Western Studies, Geology, Archaeology) and an exploration of history and geography as academic disciplines, as well as an English language component designed to facilitate subsequent research on specific issues and topics. |
| | |
| --- | --- |
| Year 2 | Students nominate the course that best suits their interests and expertise. Year 2 subjects involve textbook study and workshop exercises along with a number of special lectures and activities. |
| | |
| --- | --- |
| Year 3 | In Year 3, students use their knowledge base to pursue studies in specific areas of interest, choose a research topic and begin preparing their graduation thesis. |
| | |
| --- | --- |
| Year 4 | In Year 4, students finish writing the graduation thesis that represents the culmination of four years of study. Students can also choose General Lecture class as an alternative to the thesis. |
Teaching staff
In the Teikyo University Teaching Staff Database, information about the staff can be searched and viewed. (Japanese information only, may not cover all staff)