Part-time Work Regulations
International students wishing to work part-time are required to obtain a part-time work permit. The application procedure and eligibility requirements are detailed below.
Working part-time
International students are deemed to be residing in Japan for the purpose of study. As such, international students are permitted to work part-time only as needed to cover their education and living expenses and provided that such work does not interfere with their studies. Before you can engage in part-time work, you must apply to the Immigration Bureau for the relevant permit. Working without a permit, or working more hours than stipulated on the permit, constitutes a violation of immigration law and may lead to penalties or other measures under the Immigration Control and Refugee Recognition Act and/or the rules of the university.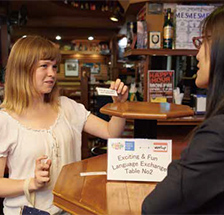 Part-time work permit application procedure and associated regulations
1. Scope
International students—including undergraduate, graduate and research students—are permitted to engage in part-time work for a maximum of 28 hours per week, including up to eight hours per day during long vacations. Note that certain industries are prohibited, such as the sex industry. Students found working in these industries face potential expulsion from the University and/or deportation from Japan.
2. Application procedure
The application can be submitted upon entering Japan when applying for a residence card, or at a later date at your local Immigration Bureau.