Traineeship Programs
A variety of programs designed to cultivate a global outlook
The Faculty of Fukuoka Medical Technology offers overseas training programs including seminars and hospital inspections designed to promote a deeper understanding of health insurance and health care service provision in the United States. Training components are interspersed with a range of stimulating activities.
Training program in FY2011
Colorado Heights University
Dates: May 16 – 31, 2011
Students: 32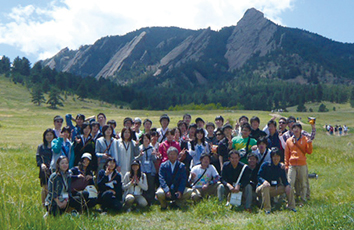 After completing the training
The hectic two-week schedule featured a variety of stimulating experiences, including 14 lectures and observation sessions, 11 sightseeing and inspection tours and four commemorative dinners. The trip was a stimulating experience that helped students to acquire a valuable global perspective in their chosen profession. Many thoughtful insights were provided by students, demonstrating the profound and positive impact of this training, as well as their high interest to deepen their studies in the United States.
The trip included presentations on topics such as the health insurance system in the state of Colorado, health care provision in the United States and in-home rehabilitation services, as well as tours of the Medical Department at the Olympic Training Center, Craig Hospital and Sky Ridge Medical Center with 1,200 doctors. The students and accompanying teaching staff also found time to go rock climbing and hiking in the Rocky Mountains and even catch a major league baseball game. The trip was a fantastic experience for all.