Department of Biosciences
Developing useful skills in biosciences
Biofuels represent a natural energy source with considerable potential to help combat global warming by reducing CO2 emissions. In addition to alternative fuels, the Department of Biosciences is pursuing a range of research projects in areas in connection with plants, animals and microorganisms. The curriculum has a strong focus on the use of bioscience experiments and cutting-edge technology to make a positive contribution to society.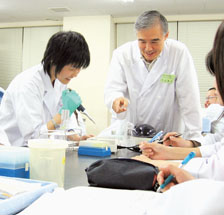 Curriculum
Developing useful skills in biosciences to be able to contribute to the society
The integrated curriculum is centered on biology and chemistry together with related high-level subjects, and features a strong emphasis on English language skills for reading research papers. Students practice experimental techniques and study cutting-edge technology, and acquire theoretical and practical bioscience skills relevant to the challenges of modern society.
| | |
| --- | --- |
| Year 1 | Year 1 focuses on biology and chemistry, which constitute the foundation of bioscience. Students are also introduced to the basic concepts of genetics, microbiology and biophysics as a precursor to more advanced studies. |
| | |
| --- | --- |
| Year 2 | Through a varied and stimulating collection of lectures and experiments, students learn about the role of bioscience in the world and study theoretical and practical aspects of bioscience. |
| | |
| --- | --- |
| Year 3 | In Year 3, the focus shifts to more advanced topics and applied knowledge, including experimental techniques and topics in medicine and pharmacology. |
| | |
| --- | --- |
| Year 4 | In Year 4, students nominate a field of specialization and are assigned to a research team where they conduct high-level experiments with the assistance of a dedicated research supervisor while pursuing research that culminates in the graduation research project. |
Featured class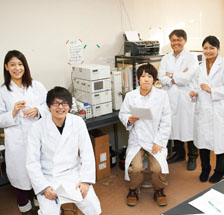 Detecting trace materials in the everyday environment
The everyday environment contains a number of naturally occurring and manmade substances that can affect health even at trace levels. Examples include trace additives used in food production and storage, organic matter and metal ions in food products, bacterial contamination in food, and chemical discharge from production facilities. Experiments in Environmental Health looks at techniques for identifying and quantifying trace materials in our environment (particularly in food products).
Senji Takahashi teaches students how to identify and quantify caffeine in coffee and tea using a HPLC (high-performance liquid chromatography) analyzer.
This subject is recognized under the national accreditation scheme for food hygiene managers and supervisors, and can also be used to earn qualifications* that are considered unusual in the Faculty of Science and Engineering.
* Granted to graduates who have completed studies in fields such as medicine, pharmacology or agricultural science and subsequently found employment.
Post-graduation Career/Academic Paths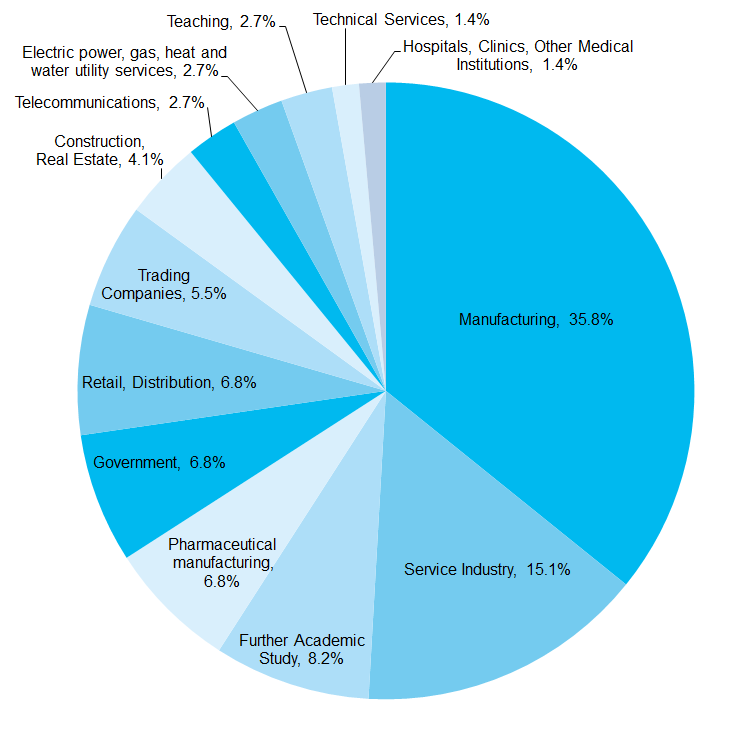 A relatively large number of graduates continue on to work in manufacturing and the service industry.
Major Places of Employment and Study Following Graduation
Meiji Co., Ltd. / MOCHIDA PHARMACEUTICAL CO., LTD. / Zenyaku Kogyo Co., Ltd. / SHODA SHOYU CO.,LTD. / Tomoe dairy processing co.,Ltd. / TAKIZAWA HAM CO., LTD. / JA-Nasuno / JA-Fukushima Mirai / Ministry of Health, Labour and Welfare / Moka City Hall / Jichi Medical University Graduate School / Nara Institute of Science and Technology Graduate School / Teikyo University Graduate School of Teacher Education
Teaching staff
In the Teikyo University Teaching Staff Database, information about the staff can be searched and viewed. (Japanese information only, may not cover all staff)
Student Message