Department of Judo Therapy
Judo therapy stimulates the cells to promote recovery from injury
Judo therapy features a combination of theoretical and practical studies with a strong focus on biology, medical science and bioethics. The Teikyo Toyosatodai Judo Therapy Office, opened in April 2010, serves as a training facility for Year 4 students. The Department Judo Therapy curriculum incorporates science components such as bioscience and robotics engineering, and has been developed in conjunction with physicians and sports doctors to provide a comprehensive and broad-based outlook on judo therapy.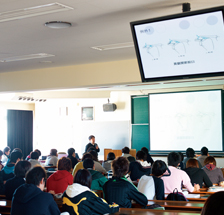 Curriculum
Judo therapy stimulates the cells to promote recovery from injury
The curriculum develops judo therapy skills and hones patient-sensitive techniques. It features a strong emphasis on biology, medical science and bioethics and extensive use of life design drills and one-on-one training sessions.
| | |
| --- | --- |
| Year 1 | Year 1 includes general liberal education subjects as well as judo topics such as body structure and functions. Students also explore the history of judo therapy and the role of the judo therapist. |
| | |
| --- | --- |
| Year 2 | In Year 2, students complete their basic studies and acquire a broad perspective on judo therapy in the context of medical science through a combination of general and specific subjects, which also includes preparation for clinical training. |
| | |
| --- | --- |
| Year 3 | Year 3 sees students commence clinical training, which allows them to apply their knowledge and hone their skills and techniques in the clinical setting. |
| | |
| --- | --- |
| Year 4 | In Year 4, students hone their diagnosis, treatment and communication skills through an extensive program of training exercises. By treating a range of actual patients, they observe various symptoms and conditions. Students also write a graduation research paper and prepare for the national accreditation examination. |
Featured class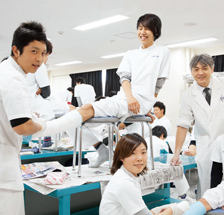 Learning therapy techniques through practice
In addition to the official qualification required to work at an osteopathic or chiropractic clinic, the judo therapist needs to acquire a sensitivity to the needs and expectations of the patient. "Until you actually put on some bandages and try to move about, you never really appreciate the struggles that some patients have just going about their daily business," points out Miyasaka. "In this subject, we get students to put a plaster cast on their leg then walk around the university on crutches. By the time they get back to the classroom, many of them have peeling skin where the plaster has rubbed. This exercise makes them aware of how important it is to apply bandages carefully and consider the needs of the patient. Being a judo therapist requires more than just passing the qualification exam; you need to understand what patients are feeling, and that can only come from direct experience." To this end, the fourth year of the Judo Therapy course includes hands-on training at an osteopathic clinic.
Post-graduation Career/Academic Paths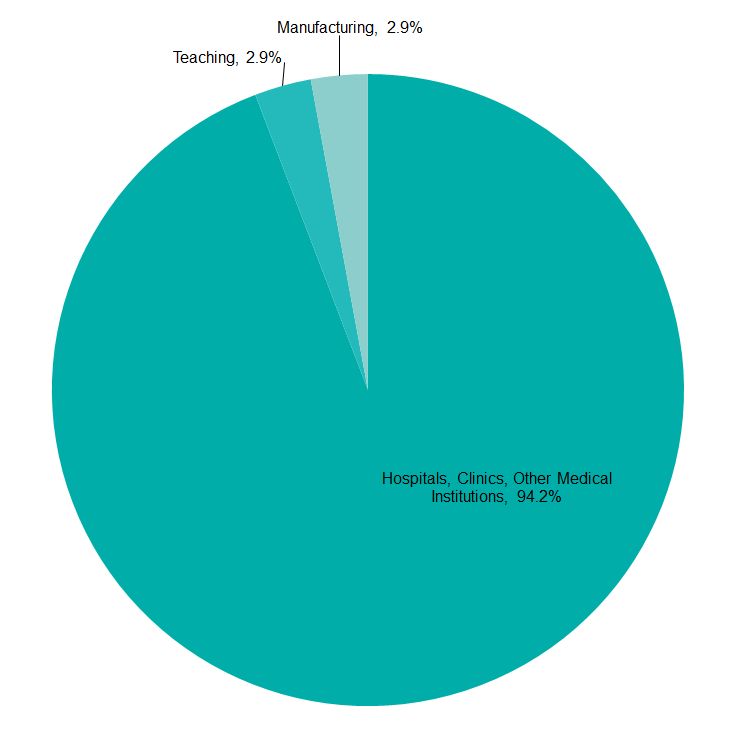 A large majority of students—about 90% of all graduates—go on to work at hospitals, clinics and other such medical institutions.
Major Places of Employment and Study Following Graduation
Kura Osteopathic clinic / Wakaba Chiropractic clinic / Oogane bone setting / Hakuohdaimae Osteopathic clinic / Kawamata Osteopathic clinic / Yoneda Hospital / Nishi Tokyo Pain Clinic / Owada Orthopedic Clinic / Hasegawa Orthopedic Hospital Clinic / Soka Matsubara Orthopedic Clinic / Nippon Sport Science University / Nippon Flour Mills Co., Ltd. Sports division / CramerJapan,Inc. / more / Nissei Medical Co., Ltd.
Teaching staff
In the Teikyo University Teaching Staff Database, information about the staff can be searched and viewed. (Japanese information only, may not cover all staff)