Faculty of Medical Technology
Itabashi Campus

Hachioji Campus

Utsunomiya Campus
Health care professionals for the future
The Department of Orthoptics in the Faculty of Medical Technology prepares students for national accreditation in orthoptics, while the Department of Nursing provides equivalent qualifications in nursing. The Department of Sport and Medical Science (Sports Health Course) and the Department of Judo Therapy offer career pathways as sports trainers and instructors or physical education teachers at junior and senior high school level.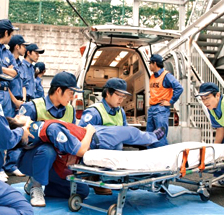 Admission policy
In order to contribute toward advancements in specialized medicine, a critical component of contemporary team-style healthcare, the Faculty of Medical Technology trains highly effective optometrists, nurses, radiology technicians, clinical technologists, paramedics, and judo therapists. Further, we aim to foster outstanding sports trainers, educators, and competitors, as part of our efforts to promote a healthy society.
We seek candidates who, through wide-ranging studies in their high school years (or in other academic institutions), have developed the following:
1. An understanding of the importance of human life.
2. Highly developed ethical views.
3. The ability to coordinate and cooperate with others.
4. A strong interest in learning about medicine, sports, and health.
Key facts
Department

Department of Orthoptics
Department of Nursing
Department of Radiological Technology
Department of Clinical Laboratory Science
Department of Sport and Medical Science (Sports Health Course, Emergency Medical Technician Course, Top Athlete Course)
Department of Judo Therapy

Campus

Itabashi Campus

Department of Orthoptics, Department of Nursing, Department of Radiological Technology, Department of Clinical Laboratory Science,
Department of Sport and Medical Science (Emergency Medical Technician Course)

Hachioji Campus

Department of Sport and Medical Science (Sports Health Course, Top Athlete Course)

Utsunomiya Campus

Department of Judo Therapy

Teaching staff *
140
Students *
3,615