Faculty of Liberal Arts
Study the wide range of courses on offer
The Faculty of Liberal Arts offers a broad selection of courses in areas ranging from literature and history to behavioral science. All courses incorporate a general comprehension and linguistic skills component which enhances basic skills used in all fields of endeavor and encourages students to adopt a broader perspective on humanity. The open curriculum allows credits for subjects from other faculties, providing a unique learning environment where students have free reign to pursue their individual interests.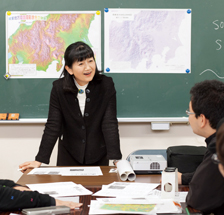 Admission policy
The Faculty of Liberal Arts aims to take students back to the basics of academic learning, while cultivating in them specialized abilities and providing a wide range of education that can be put to practical use in the workplace.
The Faculty teaches students to examine themselves and the world from a diverse array of viewpoints, in ways firmly focused on the fundamental character of human beings. With regard to basic knowledge and skills in the humanities, students are expected to focus heavily on developing problem-solving skills for various situations, cultivate open-minded views, and acquire keen insight and critical thinking skills. Accordingly, students should proactively pursue studies in a wide range of basic education fields during high school and other pre-university years.
We seek students who, through pursuit of the foregoing during their high school years (or at other educational institutions), have developed the following.
1. Essential knowledge—comprising basic academic skills—to pursue both specialized and wide-ranging studies.
2. The personal drive to question and explore human ideas and feelings regarding prosperity, happiness and related concepts.
3. The ability to think about a variety of different problems and issues in a multifaceted and logical manner, while engaging in discussions with others.
4. The desire to contribute toward advancements in society through the use of rich imaginative powers and expressive capabilities, along with a profound interest in one's potential impact on an international scale.
Key facts
Department

Department of Japanese Cultures
Department of History
Department of Sociology
Department of Psychology

Campus
Teaching staff *
81
Students *
2,945