Department of Political Science
Training human resources to solve a wide range of problems, both regional and global in scale
As the pace of globalization continues to accelerate, society increasingly expects graduates to possess more flexible thinking and approaches not limited to specific, narrowly defined academic disciplines. Students in the Department of Government think about and analyze a wide array of different issues, including those related to local regions, challenges related to peace and national security, problems tied in with national and regional policies, and even communication-related issues. The goal: to foster human resources capable of coming up with the solutions. Each student chooses their academic path after enrolling in the program, picking their own goals and direction right from the start in order to ensure a more fascinating and valuable learning experience.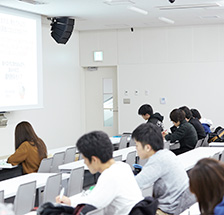 Courses
Course selection based on the student's future goals
After enrolling in the program, students choose their academic path and begin acquiring knowledge in their area of specialization.
Public Policy Course
This course is intended for students who wish to become government employees, whether it be a member of the local or national government, a police officer, a firefighter, or even a member of the Self-Defense Forces. Classes teach the knowledge and skills necessary for such jobs.
Government Course
This course is for students interested in politics and journalism. We offer political science classes, media-related studies and more in order to cultivate human resources suited to our age of globalization.
Curriculum
Curriculum designed to cover government and law along with other relevant fields
In addition to law, students in this department study English language to facilitate effective intercultural exchange and foster more international perspectives, while also learning about specialized subjects to enable the analysis and solving of diverse issues facing society today, all as part of a wide-ranging curriculum of study. Moreover, students have the option of studying an even wider selection of topics and fields through collaborations with the Faculty of Economics, helping them to come up with solutions from multiple perspectives to all sorts of problems and acquire practical skills. Upon enrollment, each student chooses either the Public Policy Course or the Government Course and follows a specially tailored course of recommended classes in sync with their own future goals, enabling them to deepen their knowledge in areas of personal interest through study.
| | |
| --- | --- |
| Year 1 | Students learn about political science through compulsory subjects as well as optional required subjects. |
| | |
| --- | --- |
| Year 2 | We aim to equip students with the knowledge required in today's global society. Students can also deepen their education through collaborative programs that transcend the bounds of the Faculty of Law. |
| | |
| --- | --- |
| Year 3 | Seminars taught in small class sizes foster theoretical thinking and discussion skills. |
| | |
| --- | --- |
| Year 4 | With a central focus on the seminar, students utilize what they have learned for four years of study to develop future policies in response to an array of different issues facing contemporary society. |
Post-graduation Career/Academic Paths
It appears that most students go on to work for the government, the media, private-sector companies, etc.
Teaching staff
In the Teikyo University Teaching Staff Database, information about the staff can be searched and viewed. (Japanese information only, may not cover all staff)