Graduate School of Teacher Education
Equipping the teachers of tomorrow with a broad world view complemented by excellent skills and a sense of personality
The Graduate School of Teacher Education was set up by a dedicated group of highly experienced teachers in leadership roles. The aim is to provide practical training to equip teachers with a broad world view together with high-level skills and competencies in curriculum development and pedagogy.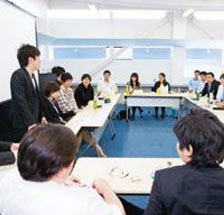 Key facts
| | |
| --- | --- |
| Specialization | Division of Curriculum Studies and Teacher Education |
| Program/outcome | Master's of Teaching (Professional) |
| Educational principles | |
| Campus | |
| Teaching staff * | 14 |
| Students * | 29 |
Specialization
Practical and professional curriculum for teachers
The Master's of Teaching program uses a combination of theoretical and practical studies to teach the skills of theoretical inquiry and adaptability in the classroom environment. In many subjects, postgraduate students are paired with researchers and working teachers. The program offers a varied and stimulating selection of some 61 subjects and is linked with other parts of Teikyo University such as the School of Medicine to provide students with a broad education in other academic disciplines such as medicine.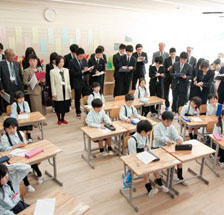 School Leader Course
Teaching theory together with practical and applied skills
Classroom experience helps to develop deeper knowledge of the teaching profession. The School Leader Course teaches leadership skills that are useful not only in the classroom but also in government and the local community.
Advancement of Educational Practice Course
Helping to plan the schools of the future
The Advancement of Educational Practice Course explores ideas and concepts in education in considerable depth. It is intended for aspiring teachers who are yet to start work in the teaching profession, and is intended to develop teachers for the new age. The course covers the theoretical and practical aspects of teaching as well as combining theory and practice and developing innovative problem-solving solutions.
Teaching staff
In the Teikyo University Teaching Staff Database, information about the staff can be searched and viewed. (Japanese information only, may not cover all staff)