Promotion of Industry-Academic-Government Cooperation
Objectives
Tangible and practical components of learning programs
Teikyo University offers a range of internship experiences through local tie-ups with the private sector, as well as challenges and opportunities for hands-on participation in local communities.
Applying your specialization to a different field
The ongoing recession in Japan can cause students to feel despondent about the future. But this is just a state of mind. The recession cannot last forever; change will happen eventually. So it is important to have a clear vision of one's role in society.
The term "collaboration" typically conjures up an image of joint research projects with big business. But this is only part of the story. Teikyo University is involved in a range of collaborations with the public and private sectors that give students a chance to apply their specialist knowledge to other fields of endeavor. For instance, engineering students are given the opportunity to get hands-on experience working at local manufacturers.
Ultimately, the purpose of studying at a university is to equip oneself with skills for the future. Collaborations with the public and private sector provide students with a range of opportunities to broaden their horizons beyond the confines of the campus, and reflect on their future goals and aspirations through engagement with the local community.
Collaboration programs
Tochigi Science Lion Project
Promoting science and technology in Tochigi prefecture
The Tochigi Science Lion Project, launched at the Utsunomiya campus in July 2012, aims to promote science and technology in Tochigi prefecture by providing a central hub for proposals, operations and activities. The Project is a joint initiative by Teikyo University in conjunction with the Tochigi Education Center and 14 other organizations.
Background
The Tochigi Science Lion Project was inspired by the physical shape of Tochigi prefecture, which resembles a lion. The Project aims to capitalize on the combination of natural resources and a high concentration of cutting-edge industries in the prefecture.
The Tochigi Science Lion Project is building a science communication network through a range of events and promotions targeted at schoolchildren and the general public in order to boost awareness of and interest in science and raise science literary standards across the prefecture.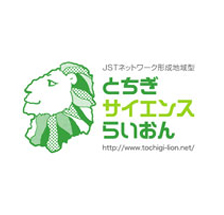 Enjoy Science! event
The Tochigi Science Lion Project includes Enjoy Science!, a fun science-based event with an emphasis on experiential hands-on activities. It is held every year at the Utsunomiya campus in conjunction with local municipal authorities (including municipal boards of education) and the Tochigi Board of Education.
Visitors to Enjoy Science! can learn how signals light up, how airplanes fly through the air and how plant species are improved, and can even try out a real jet aircraft.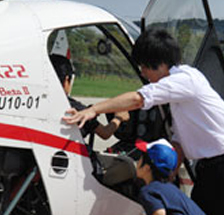 Tochigi Aerospace Conference (TASC)
Promoting aerospace and aerospace technology
Tochigi prefecture boasts a high concentration of aerospace developers and suppliers. The Tochigi Aerospace Conference, of which Teikyo University is a member, was set up to promote the aerospace industry, particularly technical development in the industry, through improved interaction and exchange initiatives between government bodies, private operators and academic institutions.
Background
Tochigi prefecture has a large number of suppliers in the aerospace industry providing materials, components, electronic equipment, testing systems and aircraft bodies. Most of the leading aerospace industries in Japan are based in Tochigi prefecture. The Tochigi Aerospace Conference was set up in 1997 to promote the aerospace industry through better interaction and coordination between the public, private and academic sectors, in turn generating a flow-on effect in other local industries.
Around 90 groups and organizations are involved in a range of programs and events coordinated by the Tochigi Aerospace Conference. This includes the Teikyo University Department of Aerospace Engineering in the Faculty of Science and Engineering, which provides technology presentations and briefings to the private sector on specific topics such as the Teikyo Sat compact satellite project, as well as events open to the general public.
Teikyo University initiatives
Aerospace Conference in Tochigi 2010 The solar system and extrasolar planets
Supplied teaching staff for monthly technology training sessions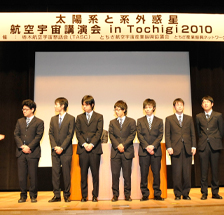 Next-generation Mobility Sector Council
Promoting growth in the next-generation mobility sector in Utsunomiya
Teikyo University is a member of the Next-generation Mobility Sector Council, which was set up to develop strategies for encouraging tighter integration within the next-generation mobile industry in the city of Utsunomiya. The Council brings together a broad range of local businesses and universities to identify key goals and issues in the industry and discuss strategic support strategies and projects.
Background
The next-generation mobility sector is a collective term for a diverse range of industries operating in the Utsunomiya region that are dedicated to enhancing passenger and freight mobility, including the aerospace, automotive, robotics and telecommunications industries. The Next-generation Mobility Sector Council was set up to develop a range of strategies for these industries.
Typical strategies include networking strategies, where coordinators set up technical discussions and partnerships between private industry and universities; innovation strategies, involving training and study programs designed to raise basic technical standards in the private industry; and engagement strategies, which seek to inspire an interest in modern manufacturing among children and young people through summer holiday science bus tours for children and on-site tours.
Teikyo University also has a strong commitment to human resources development in the local manufacturing sector through initiatives such as the World Robot Olympiad, held in Utsunomiya.
Teikyo University initiatives
Next-generation mobility supersonic vibration training sessions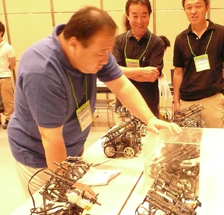 Tochigi Automotive Industry Council
Promoting Tochigi prefecture as a key hub in the automotive industry
The Tochigi Automotive Industry Council is dedicated to promoting coordination and collaboration between the private, public and academic sectors in the automotive industry in Tochigi prefecture while at the same time facilitating funding and financing for initiatives in the industry. Teikyo University is a management member of the Council network responsible for promoting interaction and exchange and developing strategies to better support the industry.
Background
The Tochigi Automotive Industry Council is a network that links businesses, universities, industry organizations and financial institutions in Tochigi prefecture with the aim of promoting interaction and discussion in the automotive industry. The Council promotes the industry through initiatives designed to boost technical standards at small and medium suppliers as well as training and skills enhancement programs and marketing support services.
The Council also runs a number of innovative programs such as the Electric Vehicle Testing Scheme, which provides advanced next-generation electric vehicles on loan to local businesses for fixed periods as a means of promoting awareness and uptake of electric vehicles and generating R&D and testing data, and the On-Site Improvement Training Scheme, where large companies assist smaller companies in the local region in identifying on-site improvements to help boost productivity and competitiveness.
Teikyo University initiatives
EV internal structural testing program
Electric vehicle disassembly demonstration for business (on the Nissan LEAF EV)
Symposium on frictional oscillation
Symposium on technical aspects of brake squealing and friction phenomena
Presentations by the research committee for composite material processing technology*
Providing information and advice on CFRP (carbon fiber reinforced plastics) materials used in aircraft parts and components

Job-seeking service
Presentations to students on local companies and recruitment procedures to match graduates with vacancies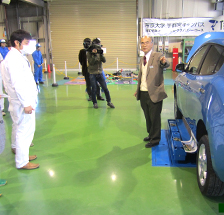 City of Omuta Health and Welfare Department, Preventative Care Train the Trainer program
Providing instructors for Preventative Care Train the Trainer program
The Fukuoka campus provides instructors for community health programs at the City of Omuta and other special grant programs at towns and villages in the region.
Background
In light of the steadily aging population in Japan, it is increasingly important to find ways to maintain active and engaged communities and develop preventative care strategies designed to arrest the decline of everyday skills and capabilities. The City of Omuta has introduced preventative care programs that help people to live independently in the community with minimal reliance on support and nursing care services. The Preventative Care Train the Trainer program develops trainers for preventative care programs.
As part of our commitment to community engagement, the Fukuoka campus actively supports the Preventative Care Train the Trainer program by supplying instructors to programs such as Yokabai Exercises for building muscle strength in elderly people, the Muscle Up machine training center for muscular development, and the Healthy Living Consultant training program. The aim is to have local residents providing personalized preventative care to elderly people that will improve health and mobility for greater independence and quality of life.
Teikyo University initiatives
Providing instructors for Yokabai Exercises program
Providing instructors for Muscle Up machine training center
Providing instructors for Healthy Living Consultant training program