Approaches and Issues of Teikyo University
Partnerships for learning and growth at the local and national level
In addition to our core role of equipping students with advanced and specialized knowledge and expertise, we are committed to developing partnerships and arrangements with local groups and organizations, private industry and other academic institutions as a means of maintaining a well-rounded campus environment with a strong emphasis on community engagement and social obligations as described below.
Knowledge acquisition provides the driving force for local and international engagement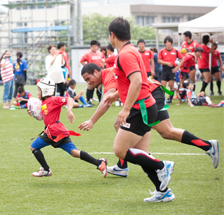 All aspects of learning at Teikyo University are intrinsically linked to society at the local and international level. Disciplines such as health care, education and the social sciences represent the driving force behind engagement with a diverse range of communities.
In the field of health care, for instance, as Japan grapples with the twin impacts of an aging population and declining birthrates, Teikyo University makes an important contribution to the world of medical science. Providing professionals which actively engage in the medical field, and utilizing advanced medical technology to the world, we show that our contribution goes global. In education, we provide quality training for the leaders of tomorrow, as reflected in our commitment to an independent graduate school with dedicated teacher training courses. In the social sciences, meanwhile, Teikyo University regularly hosts major seminar events on a scale never seen before in Japan, providing valuable opportunities for skill enhancement while promoting direct contact between students and teaching staff.
Teikyo University offers countless opportunities for interaction with students from local schools, including sporting events and community engagement programs. Needless to say, these provide invaluable learning and experiential benefits for our students. Teikyo University is committed to ongoing engagement programs at the local and national level to promote learning and growth through community partnerships.
Chairman and President
Yoshihito Okinaga