Teikyo Study Abroad Center (T-SAC)
Helping students to develop an international outlook
The Teikyo Study Abroad Center was set up with the specific aim of helping to inculcate an international perspective in students by coordinating exchange study programs and supporting international students.
Background
The Teikyo Study Abroad Center is a key component of the university's internationalization strategy and educational principles, delivering international exchange programs to institutions throughout the Teikyo University group. Through tie-ups with leading universities around the world, the Center has developed an extensive range of exchange programs and other initiatives providing a broad range of experiences outside Japan. The Center also oversees exchange programs for overseas students wanting to study in Japan.
In addition to a range of short-term and long-term exchange programs at overseas campuses and affiliated institutions, the Teikyo Study Abroad Center also provides academic advice and assistance to international students, helping them to acclimatize to Japan and facilitating interactions with local Japanese students. Friendly staff fluent in English, Chinese and Korean are always on hand at the Center to answer queries and provide assistance to students who are still learning Japanese.
Teikyo University currently hosts around 400 international students from Asia (mainly China, South Korea, Taiwan and Malaysia), as well as Saudi Arabia, New Zealand and many other countries. At the same time, every year more than 100 Teikyo University students transfer overseas to continue their studies. The Teikyo Study Abroad Center will continue to organize activities and programs, designed to help students to develop a global outlook through their academic pursuits.
Staff message
We give you our full support to help you with Japanese or unfamiliar aspects of living in a foreign country!
Everyone on the T-SAC staff has studied and lived abroad, so we have all experienced the uncertainties, anxieties, language barriers, and differences in customs and communication that exchange students are facing. Therefore, our greatest asset is the fact that we can sympathize with you and help you solve your problems. We provide assistance not only for campus life, but also for all aspects of living in Japan, including alien registration, visa applications, opening a bank account, and finding an apartment. If you have any concerns or worries, stop by! We'll do our best to help you.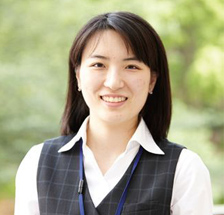 Nao Inoue
Teikyo Study Abroad Center