Faculty of Law
Meeting the never-ending demand for legal services
The Faculty of Law offers a topical and relevant curriculum designed to encourage logical and reasoned thinking on globalization of business and changes in the environment, covering areas such as the basic spirit of the law, fundamental legal expertise, logical thinking and effective decision-making skills. Expert instructors drawn from government, academia, private industry and the legal profession provide students with real-world examples of how the law functions in society.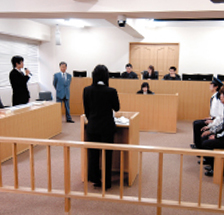 Admission policy
In accordance with School Philosophy, the Faculty of Law aims to equip students with fundamental knowledge in the fields of law and political science while instilling in them well-balanced judgment and logical thinking styles through the University's educational policies of "practical learning," "international perspective" and "open-mindedness."
The study of areas such as law and political science entail fostering firm understanding of increasingly complex problems faced by our contemporary society and utilizing ethical, critical thinking to develop future-oriented approaches and policies, all of which require open-minded perspectives and various knowledge. Therefore, it is very important that students study widely and thoroughly in all basic areas of education during high school and other academic years before entering University.
We seek candidates who, through pursuit of the above during their high school years (or at other educational institutions), have developed the following.
1. A strong interest in society and a desire to study it further, as well as the ability to precisely and clearly express one's own thoughts
2. The academic abilities needed to pursue studies in this area after entering University along with wide range of perspectives and the ability to think about a variety of different subjects in a multifaceted and logical manner
3. The will to work with others regardless of interpersonal differences, and the drive to actively pursue better communication
Key facts
Department

Department of Law
Department of Political Science

Campus
Teaching staff *
46
Students *
1,875
Department