Faculty of Language Studies
Practical language education for the true global citizen
The Faculty of Language Studies places a strong emphasis on cultural research as a complement to language studies. Being able to speak another language does not of itself make one a true global citizen; it is important to understand and appreciate the cultural background behind the language. Overseas exchange programs allow students to experience the world first-hand and use their language skills to engage directly with different cultures.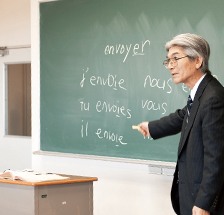 Admission policy
The Faculty of Language Studies aims to foster human resources capable of solving a wide range of contemporary problems by equipping students with the individual foreign language skills that serve as concrete and vital tools for interacting with other parts of global society in today's world. Whether one is studying their own language or that of another country or region, the language acquisition and refinement process requires vast amounts of time and patience, and only those of a certain disposition are capable of enjoying this process. Language learning is a long and daring journey, and the student must have interest in other cultures and languages as well as the courage to venture forth into these new worlds.
When using language as a tool, all aspects of the user's personality are put to the test at once, which is why a successful candidate will not only develop proficiency in Japanese, English and other such subjects during high school and other pre-university studies, but also develop their body as a whole, including in terms of physical fitness. In short, Students of Faculity of Language Studies should have a well-balanced overall range of human qualities.
We seek students who, through pursuit of the above during their high school years (or at other educational institutions), have developed the following.
1. The patience needed to learn a foreign language or languages
2. The ability to enjoy exploring uncharted territories, whether it be through study to foreign countries, reading books, or other means
3. The ability to enjoy interacting with others without feeling overly nervous or uneasy
Key facts
| | |
| --- | --- |
| Department | Department of Language Studies |
| Campus | |
| Teaching staff * | 37 |
| Students * | 1,195 |
Department