Department of Nursing
Highly skilled nurses serving the local community
The Department of Nursing develops theoretical and scientific skills along with a sense of compassion and empathy. The curriculum is updated constantly to reflect advances in medical technology, globalization of the health care industry and changes in social structures. Graduates are equipped to provide health care, medical and welfare services in the local community.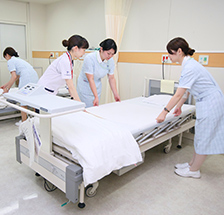 Curriculum
Study nursing techniques, hone your individual capabilities and develop an independent outlook
The stimulating and varied curriculum features a combination of group work, exercises, observation and practical training components. It is designed to foster a sense of professionalism and independence, providing a broad-based education together with an introduction to a variety of different specializations.
| | |
| --- | --- |
| Year 1 | Year 1 is spent learning core introductory subjects alongside students in other departments. Nursing covers a range of fields relating to humanity, the environment and society. Students develop an understanding of the basic ideas and principles of nursing, including a module on ethics. |
| | |
| --- | --- |
| Year 2 | In Year 2, students begin to study subjects that provide a foundation for subsequent study in specialized subject areas, along with a broad range of specialized disciplines. In the latter half of the year, students are given more practical subjects involving training exercises. |
| | |
| --- | --- |
| Year 3 | In Year 3, the first half of the year focuses on specialist subjects in a range of areas. Students develop a deeper understanding of specialist fields. In the second half, students begin to acquire hands-on experience in a practical training component undertaken at local hospitals and facilities. |
| | |
| --- | --- |
| Year 4 | Year 4 consists mainly of practical training, as students acquire practical skills in all facets of nursing. The second half of the year is spent consolidating their studies and deepening their studies based on their career plan. |
Teaching staff
In the Teikyo University Teaching Staff Database, information about the staff can be searched and viewed. (Japanese information only, may not cover all staff)