Department of Medical Technology
Emergency Medical Technician Coursee
Training emergency medicine specialists who can contribute to regional medical care
Each year, increasing numbers of people sustain injuries and illnesses that require emergency medical care and rescue, and the paramedics who respond to such situations have become vital in the field of medical care today. Here are Teikyo University, we train paramedics capable of adapting and responding to any situation without hesitation, who are equipped with the specialized knowledge, skills and cool-headed judgment necessary to administer pre-hospital medical care.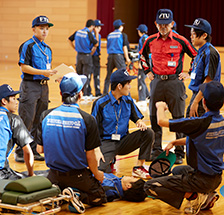 Curriculum
Thoroughgoing curriculum to train professionals who can think on their feet
As specialists in the field of emergency care, we foster paramedics with practical skills and problem-solving abilities who help solve problems faced by local society as a whole in areas including medicine, health and welfare. Toward this end, we have developed a curriculum that equips students with the necessary skills and knowledge while involving them in a rich array of collaborative learning and training programs throughout the local region.
| | |
| --- | --- |
| Year 1 | While providing basic medical education, which covers the structures and functions of the human body among other subjects, we cultivate deep-reaching humanistic and ethical thinking in our students. |
| | |
| --- | --- |
| Year 2 | Students study both fundamental and specialized areas of emergency medicine while acquiring general medical knowledge. Through hands-on first aid training, students acquire the core skills needed to work in emergency medicine. |
| | |
| --- | --- |
| Year 3 | Study in a wide array of specialized areas fosters emergency medical response skills and keen judgment. Students even experience work in the emergency care field through participatory learning and training at fire stations and emergency hospitals. |
| | |
| --- | --- |
| Year 4 | Through comprehensive simulations to test acquired skills, students improve their ability to respond in real-life situations. There are also classes to help with preparations for national certification examinations. |
Post-graduation Career/Academic Paths
Most students go on to work for prefectural fire stations (both central stations and branches). Other places of employment include hospitals and similar facilities requiring emergency medical care services.
Medical Engineering Course
Fostering clinical engineers possessing knowledge, technical capabilities and teamwork skills
The field of medicine is evolving quickly, and medical devices capable of saving and extending lives have become more important than ever. At Teikyo University, our goal is to train clinical engineers who have the knowledge necessary to operate, maintain, repair and inspect sophisticated medical equipment. We also train them to cooperate and coordinate well with others so they can function as effective members of medical teams and make meaningful contributions to society through their work.
Curriculum
Students acquire the specialized knowledge required to respond to the needs of our society
In light of the constant changes and advances in the field of medical technology, our curriculum trains quick-responding medical professionals who possess the requisite ethical views and mental attitudes expected in their field. Moreover, we have students learn about other, related professions and develop excellent communication abilities through the study of medical-profession communication and team-style healthcare so that they can function as effective members of their assigned medical teams in the future.
| | |
| --- | --- |
| Year 1 | Through studies in biology, medical ethics, anatomy and physiology, we equip our students with the fundamental knowledge, ethical viewpoints and mental attitudes required to function as medical professionals. |
| | |
| --- | --- |
| Year 2 | Throughout this academic year, students learn the basics of medical engineering in order to solidify their base of knowledge in clinical engineering. Moreover, they acquire the practical skills and abilities needed to become clinical engineers through hands-on training and education. |
| | |
| --- | --- |
| Year 3 | Students acquire practical, specialized knowledge and skills in specific fields, fostering a better understanding of the relationships between engineering and illnesses while learning about clinical significance. |
| | |
| --- | --- |
| Year 4 | Activities center on hospital-based, practical clinical training. Additionally, a strong emphasis is placed on preparations for national certification examinations, and students also take electives to deepen their knowledge in specialized areas. |
Post-graduation Career/Academic Paths
Most students go on to work for hospitals, testing and medical examination centers, etc.
Teaching staff
In the Teikyo University Teaching Staff Database, information about the staff can be searched and viewed. (Japanese information only, may not cover all staff)