Graduate School of Health Sciences
Introducing the Fukuoka Campus' first graduate school
As scientific technologies advance, the field of medicine also becomes more sophisticated and pioneering. This has led to the introduction of various cutting-edge medical technologies and techniques for treating patients, which facilitates higher recovery rates, increased quality of life and other breakthroughs. In response, the field itself is expanding beyond the bounds of diagnosis and treatment alone to incorporate preventive medicine, health promotion and other such approaches. Here at Teikyo University, we have established the new Graduate School of Health Sciences at our Fukuoka campus as part of measures toward adapting to changes in the medical field. Radiological technology in particular has seen significant changes in recent years thanks to rapid advances in IT, computer science and other such areas, meaning that professionals now require even more sophisticated education, knowledge and skills to work in this field. The Department of Radiological Technology strives to train highly specialized professionals possessing the flexibility and practical knowledge and abilities necessary to handle increasingly sophisticated and diverse techniques and approaches. Furthermore, we also aim to cultivate educators and researchers equipped with abundant creativity and advanced research and development skills.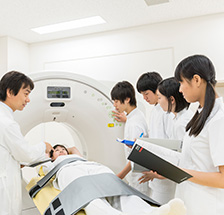 Key facts
Specialization
Division of Radiological Sciences
Program/outcome

Division of Radiological Sciences

Stage 1 of doctoral program (Master's Degree Program) -Master of Radiological Sciences
Stage 2 of doctoral program (Doctoral Degree Program) -Doctor of Radiological Sciences

Educational principles
Campus
Teaching staff *
0 (Except for the full-time faculty)
Students *
7
Specialization
Cultivating human resources capable of providing advanced medical care and health-promotion support
As scientific technologies in medicine and other fields continue to advance, new leading-edge medical approaches are being introduced in clinical environments, where they boost recovery rates, contribute to improved quality of life and facilitate other such improvements. As a result, medical workers are now expected to possess advanced capabilities and wide-reaching knowledge in specialized medical care that are suitable for increasingly sophisticated workplace operations. Here at Teikyo University, we respond to the demands of society by cultivating human resources capable of serving in the twenty-first century medical field and making contributions in regional and local medicine.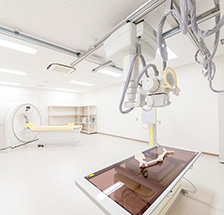 Teaching staff
In the Teikyo University Teaching Staff Database, information about the staff can be searched and viewed. (Japanese information only, may not cover all staff)
Digital brochure
The digital brochure of each undergraduate school and graduate school is available on our site. You can also access to English, Chinese, Korean and other languages by the automatic translation function.